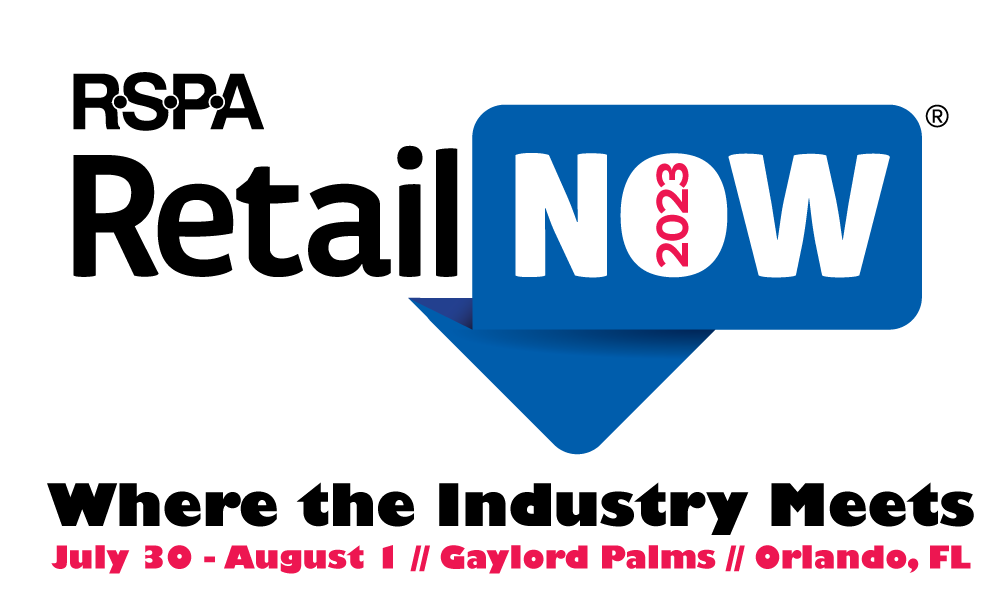 EXHIBITOR RESOURCE CENTER
Thank you for supporting RSPA and our RetailNOW Event. The purpose of this Resource Center is to communicate all RetailNOW 2023 exhibitor opportunities, due dates, and deliverables. Please note that the details available in this resource will continue to evolve and update. If you have any questions or if the RSPA can be of further assistance please reach out to Membership@GoRSPA.org.
---
RetailNOW Website and Registration
Information on the event including agenda, and registration (attendee and exhibitor) is now available at www.GoRSPA.org/RetailNOW. You will be receiving an exhibitor communication with details on how to register your team. Please see below for exhibitor information.


---
GES Expresso Ordering Site: *Including: Electrical, Internet, and F&B for your booth*
GES is the preferred exhibitor service provider for RetailNOW 2023 items such as furniture, shipping requirements, cleaning, hanging signs, a/v, electrical, etc. Click here to access the 2023 exhibitor kit. Please note: you will need to create a login if this is your first time accessing the GES site. This is not the same as your login for the RSPA website.
*If you are using another exhibitor services company, please refer to this exhibitor kit for information on coordinating with our provider.
---
Now Available: Lead Capture App/Devices
RetailNOW exhibitors have the opportunity to purchase a lead retrieval device to ensure attendee data is captured for booth visitors. The exhibitor booth admin contact should have received an email directly from Cvent (RetailNOW's event registration platform) that contains purchasing information.
LeadCapture First Device Software License Per Organization: $189.00
LeadCapture Additional Device Software License Per Organization: $149.00
Have questions or need more information on lead capture devices? Please contact Membership@GoRSPA.org.
---
Book Your RetailNOW Stay!
The RSPA is excited to host RetailNOW 2023 at the spectacular Gaylord Palms Resort & Convention Center. Follow this link to reserve your room at the Gaylord Palms Resort using the RSPA room block rate. The RSPA room block rate of $224 + tax (the $224 includes the resort fee) ends June 30, 2023. Reserve your room at this affordable rate today – space in the Gaylord is limited!
---
Exhibitor Load In and Load Out Schedule 



*Large exhibitors needing additional time can reach out to Ashley Naggy at ANaggy@GoRSPA.org for additional options.
---
Booth Design/Layout Rules
Exhibitor Rules – To help with your booth space planning/design and understanding of your layout, click here to see the exhibitor rules. Any exhibitor's booth that does not comply with these guidelines will result in the disassembling of the booth sections that are in violation.
---
Vendor Partner Meeting Agreement
RSPA is pleased to offer exhibiting vendor members the opportunity to host a meeting and/or hospitality function for their partners. Due to limited space, we have different available times for training vs. hospitality events. Members can host a traditional partner meeting, training meeting, (education and company focused), or hospitality meeting (celebratory networking) for current and potential channel partners. For available meeting times and to submit a meeting event request form, follow this link. Please contact Membership@GoRSPA.org for additional details and pricing.
---
Company Description for Event Mobile App is Due 05/19/23
The RetailNOW App will provide attendees with everything need to know about the event in the palm of their hand. As an exhibitor your company's description will be listed in the app and to ensure we have the most up-to-date company description, please submit a 50-word company description to Membership@GoRSPA.org before Friday, May 19, 2023. 
---
RetailNOW 2023 Exhibitor Marketing Toolkit
The RSPA created this marketing toolkit to help you promote your participation and encourage your current and potential channel partners to meet you at RetailNOW 2023, "It's Where The Industry Meets." Access the RetailNOW 2023 Marketing Toolkit by following this link.
---
Vendor Partner Program
The RSPA Vendor Partner Program encourages you to invite/sponsor your channel partners to attend RetailNOW. Through this program you can boost your partner meeting attendance, host and reward your partners and give them access to top tier education and professional development. Click here for more information or contact Membership@GoRSPA.org to learn more about this program.

---
Additional Sponsorship and Branding
These marketing programs are available to help exhibitors stand out amongst up to 170+ exhibitors on the show floor. Click here to learn about remaining opportunities for RetailNOW 2023.
---
Does RSPA share a list of show attendees?
If you are interested in obtaining the RetailNOW attendance list, contact RSPA directly at Membership@GoRSPA.org. Additional charges may apply. Please be advised that, while other companies may contact you offering attendee lists for RetailNOW (or RSPA), they are in no way endorsed by or affiliated with RSPA or RetailNOW. In general, any communications (electronic, verbal and/or print) regarding RetailNOW will come to you directly from RSPA. If you receive any questionable communications, don't hesitate to contact us at Events@GoRSPA.org to verify their legitimacy.