By: Dave McCarthy, RSPA Hall of Famer
DUMAC, a retail IT solution provider based in Syracuse, NY, has been helping independent retailers since 1952 and has been a staple in the RSPA community for 69 years (joining in 1954).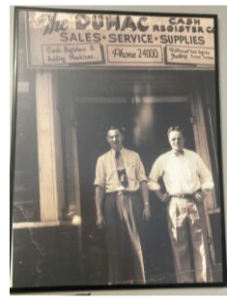 In a recent email to the RSPA team, retired DUMAC Co-Chair and Chief Financial Officer – and 2022 RSPA Retail Technology Industry Hall of Fame inductee – Dave McCarthy shared the early origin and photos of how DUMAC came to be:
The first photo shows DUMAC's first location on Park Street in Syracuse, NY, in the early 50s. Notice the phone number. The two founders were Hugh Duskee and my father Bill McCarthy. Our mother thought up the name "DUMAC" by using the "Du" from Duskee and my father's nickname "Mac." Both were technicians (called servicemen back then) for National Cash Register and were sent to school in Dayton at the same time from the Syracuse branch in the mid/late 40s. Both went to multiple National schools since learning all of the products was very time-consuming. They discussed forming their own company at one of the schools during the early 50s and did so in 1952.
The first school at National was six months long. The first product in school was the 100 Class, followed by the 1900 class, followed by the 1500 Class. The 1500 and 1900 were very similar except the 1500 printer was very complex. Most guys made it through the 100-Class school. Some flunked out of the 1900-Class school. Usually, if they weren't going to make it for National, they flunked out on the 1500 printer. If they made it through 1500, they could probably make it through any National product school.
My father said there was a test every two weeks at school: it involved knowing the names of every part covered during those two weeks, covering the mechanisms' movements to the instructor and making whatever repair they gave you to do. A minimum score was 80%. If the tech didn't achieve 80% or better that Friday, they were sent home and no longer employed by National. It was stressful to say the least.
Our father bought Duskee out around 1961 with a second mortgage on our house. It was always a struggle against National, so Duskee got tired of it and opened a paint store (which no longer exists).
The NY State Fair is held in Syracuse every year (centrally located in NY State). DUMAC used to rent a lot of registers to the merchants that did business there, in addition to service repairs if a machine failed. DUMAC exhibited a couple of years since they also sold typewriters for home use plus could show the Sweda cash register to interested businesspeople at the Fair.