By: Chris Arnold, RSPA Marketing Communications Manager
With trade shows and large gatherings being halted by COVID-19 in early 2020, the RSPA went on offense to create a unique, impactful avenue to stay true to the association's mission, "Accelerate the success of our members in the retail IT ecosystem by providing knowledge and connections." The result was the RSPA Academy Education Symposium, held online Aug. 26-27. This event was a refreshing change of pace for retail IT industry channel leaders who have been weathering the coronavirus conditions.
Attracting hundreds of registrants to participate in six education tracks (VAR/ISV Executive, NextGen Technologies, Customer Experience, Sales, Security, and Marketing), the Symposium featured 20+ education sessions and panels and unique networking opportunities, both in group and individual settings. To help paint a picture of the incredible education delivered by the industry-leading speaker and panel lineup, I'll to share quotes and takeaways from the keynote panel and one education session from each track.
Industry Expert Keynote Panel
Pivoting After COVID-19
"The days of us having a large computer sitting on a desk where we pay for things will go away." – Dan Jablons of Retail Smart Guys
"It's all about the customer experience. Consumers want to engage with their favorite retailers and restaurants, but they want to do it safely. We've seen new technologies emerge, and we think they're going to stick around." – Brenda McCurry of ScanSource
"If you cannot help a customer with a solution, an example being mobile ordering, find a strategic partner that can offer it to them while educating you to eventually offer that solution." – Jeremy Julian of Custom Business Solutions
"We [as partners] really need to understand each other's businesses to become trusted advisors for customers." – McCurry
"Retailers need to use all the technology at their disposal to turn inventory as quickly as possible – it's their biggest expense. There needs to be a 3x ROI on anything retailers are going to spend money on these days." – Jablons
"Diversifying your revenue is more important than diversifying verticals." – Julian
VAR/ISV Executive
Building & Managing A VAR Channel
"Look for an alignment (with a VAR) in terms of how you both make money. You need to start with a business discussion and explore if it can work. Then you have to make sure they have passion." – John Gunn of FastSensor
"Make your partners feel like they are part of a community." – Jeff Riley of Retail Management Hero
"Some value-added resellers aren't interested in the referral business model with cloud systems. They want a product that requires a higher skillset with a healthy 30%-40% margin or more." – Riley
NextGen Technologies
Retail Trends and New Technologies Emerging in Post COVID 2020
"Remote workers could lead to a reinvention of the small-town main street." – Rick Fueling of RITE Enterprise
"For consumers, I see sustainability playing a large role, especially with younger generations. On the business side, I see frictionless playing a bigger role. People want to flip between online and physical stores seamlessly." – Kevin Kogler of Microbiz
"Local brands are holding up well. Your neighborhood companies are adopting touchless options, and people feel better spending that little higher premium to help local." – Kyle Morgan of MPI Point of Sale
"The contactless payments wave is moving in. It will open up lots of opportunity for smaller merchants." – Kogler
"To be a good solution provider, we must be hyper-focused on niche technologies that differentiate retailers." – Feuling
"Local businesses need to have the tools and technology at their disposal to go online and ultimately compete with Amazon." – Kogler
Customer Experience
Remaining Customer-Centric in the Post COVID-19 Era
"Let's come out of this stronger, together." – Jason Fitzhugh of Fitzhugh POS
"People are adapting, such as becoming less video conference-shy, which is important because communication is paramount." – Rohan Mani of Shift4
"We want to make sure the customer and our team are comfortable with every interaction and everything we do." – Michelle MacKeith of Pinnacle Hospitality
"Resellers had to totally shift their sales approach – selling virtual instead of in person, changing the technologies they offer, and customers changing how they wanted to pay." – Mani
Access the RSPA Academy Symposium Education Sessions On-Demand – Industry-leading VAR & ISV education for the entire team
Sales
Selling to Merchants with Adaptations for the Modern Market
"As-a-Service models provide price flexibility, especially during these pandemic times." – Bob Brockman of POS Specialists
"Make sure you are prepared to answer customers' pain points." – Jason Cowan of Spark Solutions
"We live in times where consumers expect pricing up You should lay it out early, knowing you will have to compete on price." – Ryan Black of Retail Systems
"Local service is still key. People need and want solutions fast, that instant gratification." – Black
Security
VAR/ISV Security Best Practices
"The best starting place to become secure is to understand your environment. You will save and spend the money in the right places." – Matthew Halbleib of Security Metrics
"Team up your developers with application testers to ensure you're not making the customer's environment worse." – Jason Graf of Netsurion
"Training employees is important, and the cool thing about today is training is not too hard or expensive." – Graf
"It's okay to tailor training to the employee's role." – Halbleib
Marketing
New Marketing Best Practices Emerging from 2020
"Become a resource. Focus on the education and content pieces that help your customers." – Niala Kalol of POS Nation
"It's a great time to experiment with new marketing techniques." – Brianna Moriarty of Star Micronics
"During these times, don't focus on high production. Focus on being a friend." – James Korte of Bluestar
"Being funny and a little off-the-cuff can go a long way." – Kalol
"People don't care about your new product. They care how it will resolve their pain points and make them money." – Moriarty
I think attendee Cooper Metzler of TouchMate Inc. summed up the Symposium best in the post-event survey, "Everyone was an expert in their field, and they provided tremendous insight into every situation/topic." Attendees not only had the chance to hear from 50+ channel experts but interact, ask questions, and share "aha" moments in real-time with the other attendees and presenters.
To conclude both days, online networking rooms were set up to carry on conversations from sessions and discuss new topics. Attendees took advantage of the rare opportunity (in today's limited-travel world) to connect with industry colleagues to answer questions/concerns and share additional best practices.
The RSPA Academy Education Symposium is one example of how the RSPA has and will continue to find ways to provide value and offer avenues of education and connections. We look forward to connecting with you again soon and continuing to improve and deliver value to your business. If you need a resource, connection or someone to bounce an idea off, don't hesitate to reach out to our team at Membership@GoRSPA.org. We are here to help you find ways to thrive.
Lastly, I will leave you with a quote from RSPA President and CEO John Kirk's Day 2 Association Update: "We have to love the change. We have to love the process and project to get where we want to go. The best is ahead."
Access the RSPA Academy Symposium Education Sessions On-Demand – Industry-leading VAR & ISV education for the entire team
---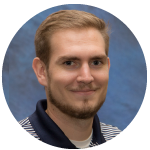 Chris Arnold
is the Marketing Communications Manager for the
Retail Solutions Providers Association
. He graduated from West Virginia University with a Strategic Communications degree and has been active in the association since 2017. Chris plays a key role in member engagement, new member recruitment, event promotion, messaging strategy & execution and content creation. For more information, contact
CArnold@GoRSPA.org
.