By: Jim Roddy, VP of Marketing at the RSPA
Yes, you read that headline right. Despite the coronavirus global pandemic, I've spent much of early March on the road attending channel events. I've certainly seen more surgical masks and sharing of hand sanitizer during these two trips than in my prior two decades of travel combined. Below are some VAR/ISV-focused "golden nuggets" from the RSPA Canadian Community networking event, held March 2 at the Hockey Hall of Fame in downtown Toronto during the Restaurants Canada show, and the NCC Partner Conference, which took place March 12-14 at the Cheyenne Mountain Resort in Colorado Springs.
But first let me share with you an email I received from Todd Jakl, the owner of RSPA reseller member Affinity Solutions in Guam, detailing the impact of the coronavirus on his organization. A native of Colorado, Jakl and business partner Robert Canos have provided payments and POS solutions on the island for years. Jakl wrote, "This coronavirus is really taking its toll over here in the Pacific. We have hotels at 0% occupancy in Saipan and in Guam 20-30% occupancy for almost all the hotels. We rely on the Korean/Chinese and Japanese tourists but with all the cancellations it has been difficult. There has been a lot of cutbacks and big decreases in sales. But, fortunately, with a healthy recurring revenue stream and a lot of mom-and-pop grocery stores, we are weathering the storm fairly well. Looking forward to seeing you in Vegas (for RetailNOW 2020)."
I see two business lessons here for VARs and ISVs. First, growing your recurring revenue is always beneficial, but sometimes it's absolutely vital. Second, take this virus fallout seriously. Channel business owners are conditioned to take challenges in stride, but this one might require you to stop your routine and strategize how you'll handle a worst-case scenario of ill employees, shuttered restaurants, and a quarantined community. "What would we do?" is a healthy question to ask. "It can't happen here" is a dangerous attitude to have.
NCC Partner Conference – Colorado Springs
My favorite part of software developer NCC's conference was the reseller case studies where VARs took the stage to share specific, real-world stories of how they grow their sales.
Rob Freaney of RSPA member Performance POS near San Francisco shared how his company effectively competes with lower-priced providers. "We're always going to be $50, $60, $70, or $100 more expensive per month than our competition," Freaney said. "You can tell the merchant you have local service and you'll be their trusted advisor. That's not enough. In the end, people care about money. We address that head on – we talk about why someone would pay $70 more to go with us, and we talk about that during the initial sales process. We say, 'If you hire us, we're going to work to increase your sales, and we'll obliterate that extra $70 a month.' We have to do the consulting. We print out reports to show them where they have gaps in coffee sales per server per shift, for example. That's where you can see when servers are forgetting to ring up the coffee with the breakfast orders. We show them how they can get $1,000 a month in revenue just after consulting with them for five minutes. We say, 'You can buy a POS system from anyone but we're the only ones who will roll up our sleeves and work with you to figure out how to increase your sales.'"
Two more nuggets from Freaney: "We tell merchants, 'We're in the cash control business; if you hire us, we'll do our best to bring calmness and control to your business'" and "If a merchant's credit doesn't pan out and they can't qualify for new equipment, we offer them the same deal on reconditioned equipment instead."
Cory Sosnovske of Star Business Machines in Stevens Point, Wisc., said a demo checklist has helped his company grow sales: "We've revamped how we do demos. We now have a list of key points we need to communicate during the demo. After we lost a deal with a liquor store, they told me it was because they wanted label printing. We had label printing, but I forgot to mention it during the demo because I've been in the industry so long it was common knowledge to me."
Erik Anderson of Electronic Office Systems in Clive, Iowa, shared his demo best practice as well: "I'm not a sales guy – I guess I'm one of those IT guys with no personality. We've had success getting specific menu items from the restaurant and adding them to our software before the demo. When we do the demo, it resonates with them – it's much better than the generic demo we used to do in the past. And then we leave the software with them and let them play with it for a couple days before calling them back."
The POS provider for the last two summer Olympics in the United States, NCC took advantage of their conference being in the same city as the U.S. Olympic training center and featured two-time Olympian gymnast and four-time national champion Sam Mikulak as the keynote speaker. Mikulak, who is scheduled to compete in the Tokyo games this summer, shared his Olympic experiences and lessons learned with the approximately 100 executives in attendance:
"I've learned from every mistake. I'm way better now as an old guy in gymnastics than I was in 2016."
"Don't look at the criticism — just do the gymnastics you can do and control what you can control."
Taking Mikulak's advice, the coronavirus wasn't all NCC attendees discussed at the event. Recurring revenue was top-of-mind among the executives I talked with. Many VARs are still not moving in that direction as quickly as they would have hoped, especially resellers in the ethnic restaurant vertical. Others told me the majority of their customers select an up-front cost model when a choice is presented. A key point I've heard from VARs who have successfully shifted to the recurring revenue business model – and I shared this point with many NCC resellers who stopped by the RSPA table – is that if you can't sell the hardware and software package as-a-Service, that's an obstacle, not a dead end. Go back to those customers after the initial install and sell them cellular failover, firewall management, managed antivirus, gift cards, web hosting, and more for a monthly fee. You'll increase your sales and the value of your business.
Another challenge several NCC VARs mentioned to me is hiring, both techs and especially sales. These resellers rave about the NCC products, staff, and support, but when the VAR attempts to acquire local talent to sell and service more installs, they're coming up empty or they're disappointed in the new hire's work ethic. A recommendation I give to resellers is to invest more time and money in the new hire recruiting process so you have a wider pool of talent to choose from. Most SMBs use one recruiting method and then hire the "least worst" person who applies. Instead, try all or a mix of the five tactics reported as most effective by channel executives in the 2020 RSPA POS Channel KPI Study: national job boards, employee/merchant referrals, local job boards, LinkedIn, and recruiters.
RSPA Canadian Community Networking Event – Toronto
The first Canadian Community in-country event of 2020 was record-setting. A total of 226 registrants signed up for the get-together, establishing a new mark for RSPA engagement north of the border. At the event, the RSPA announced a new benefit for Canadian Members who will receive preferred pricing on Rogers Business Solutions plans. Services include data/voice plans, enterprise-grade fiber internet, business landlines, and data center solutions.
Networking for the event took place before and after a presentation by guest speaker Dave Rodgerson, a Toronto-based retail consultant with more than 20 years of leadership experience working with companies like Sears Canada, Hudson Bay, IBM, and Microsoft. Rodgerson shared a flurry of data and analysis; here's what jumped out to me:
Despite the hype of the retail apocalypse, that vertical continues to grow in Canada. Rodgerson said approximately 50 new retail brands opened stores in Canada in 2017, 30 in 2018, 30 in 2019, and the 2020 pace isn't slowing, sparked by emerging retailers in the luxury fashion niche. Rogerson said VARs should be asking themselves, "What's the implication? How can we profit from this?"
Ecommerce growth is leveling off in Canada, and many of those formerly online-only brands are seeking to launch physical stores. "That's got to tell you," Rodgerson said, "that physical retail is not dead." He noted that brick-and-mortar and e-commerce have a symbiotic relationship. While online brands open stores, physical retail needs digital commerce functionality like endless aisles and frictionless experiences.
"Retailers are deciding they won't be leaves in the wind. They're taking charge through innovation," Rodgerson said. He cited examples of Lowe's LoweBot, a service robot that helps customers navigate the store, and Kroger's Shelf Edge technology that pushes messages to shoppers through digital shelf labels. For example, Shelf Edge can offer suggestive selling advertisements in the baby food aisle, asking a parent "What's the tread depth on your tires?"
Rodgerson shared the trend of conversational commerce, AI-driven conversations with an automated assistant to provide a guided, personal online customer experience. "The technology personalizes your interaction with an artificial entity, and it feels even more personal because it's taking place on your phone," Rodgerson said.
---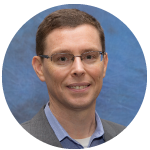 Jim Roddy
is the Vice President of Sales and Marketing for the
Retail Solutions Providers Association (RSPA)
. He has been active in the POS channel since 1998, including 11 years as the President of Business Solutions Magazine, six years as an RSPA board member, one term as RSPA Chairman of the Board, and several years as a business coach for VARs, ISVs, and MSPs. Jim is regularly requested to speak at industry conferences and he is author of Hire Like You Just Beat Cancer. For more information, contact
JRoddy@GoRSPA.org
.