"I have been in business for 36 years. I've learned a lot … and most of it doesn't apply anymore."
-Charles Exley, former Chairman of NCR
By: John Kirk, President & CEO of RSPA
The phrase "tunnel vision" often is viewed as a positive trait that is aligned with focus and results. However, there are times when tunnel vision can prevent us from seeing the big picture and the bigger opportunities. Winston Churchill once said that there are some that "can't change their mind and can't change the subject." He may have been thinking of someone with tunnel vision.
As leaders, we can't afford to focus on a part without focusing overall. If we fixate on one thing, we will miss the possibilities for victory. We will miss the creativity that is needed to win. We will move slower or perhaps not at all. This year's RetailNOW was driven by a theme underscoring the power of transformation. The most basic definition of transformation I found described "a thorough or dramatic change in form or appearance."
We are an industry association. We serve all members with authenticity, effort, and passion. Our job is to serve you. Some of you are just getting started. Some of you represent the largest companies in the world. Our community is made up of many business models. Our team sees the opportunity to serve you as an exciting challenge and a calling.
During RetailNOW 2019, I had the opportunity to attend select education breakouts. I saw transformation in action. I learned from BlueStar's Mark Fraker and James Korte about niche marketing and the process for carving and filtering down to a distinct pool of prospects. I learned from Jeremy Julian of CBS NorthStar about "nurture campaigns" and heard reminders of delivering value, value, value, before worrying about selling. I heard Chris Lybeer of Revel remind our community how critical the personal touch our VAR members provide is and how much your customers need you. I listened in on Dee Duncan of BTC King and learned during his lively discussion on cryptocurrency in POS. I took notes from Tom Bronson at Mastery Partners on actions to improve any business right now. I have already put the coaching points to work within your RSPA.
I had the privilege of sitting in on our community events. I heard women from different generations share experiences and lessons with authenticity and insight during our W2W event. Our NexGEN Community executed a panel discussion that included our new Chairperson, Chelsey Paulson of North Country Business Products, seated next to her dad and former North Country CEO and RSPA Chair Dean Crotty, as the group discussed lessons learned in embracing and accelerating change. Make no mistake about it, our job and our responsibility are to foster a safe, professional, and opportunity-rich environment for all members. Our association must always be different from the rest. Our association must always stand out from the crowd. We must always be elite in the area of how we treat one another.
When all was said and done at RetailNOW, I saw the "Community IQ" in action. Our team felt the possibilities and were inspired to do more and do it better.
We are an industry association. We stand tall as an industry association. We make a difference for many. Help is not on the way; help is here. Guard against tunnel vision and see the possibilities in your RSPA.
Let's make sure that Winston Churchill's quote never applies to the RSPA.
We CAN change our mind.
We CAN change the subject.
We CAN and WILL continue to change where winning dictates.
We will transform and continue to prosper as we expand on our success.
The best is ahead!
---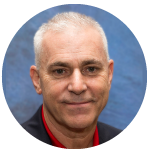 John Kirk has spent the last 20 years directly serving customers and channel partners in SMB. John served as a General Manager while leading one of the premier Local Offices at Micros. He later led The Americas Distribution channel for Radiant from 2005 to 2011. John continued in the same leadership position for four years following the acquisition of Radiant by NCR in 2011. In this role, John was responsible for serving a large channel team and community along with a critical mass of NCR owned local offices.
As President and CEO of the RSPA, John brings passion, conviction, and support, for every member. He believes it is a privilege to serve the RSAP and to follow so many that have contributed to the Association since 1948. He sees the RSPA as a low cost, high value "strength coach" to SMB.