By: Jim Roddy, VP of Marketing at the RSPA
"The gods of economics and customer psychology favor the simplifier."
Richard Koch and Greg Lockwood in their business best-seller Simplify
My master document of channel business best practices has ballooned to more than 7,000 words thanks to the addition of valuable tactics and examples from successful VARs and ISVs. It's great information, but I also understand it can be overwhelming at first blush, so I've been keeping things simple during my recent coaching sessions with VAR and ISV executives new to the RSPA's Business Advisory Services.
I'm sharing with these members that the foundation to a successful reseller or software developer organization can be found in what I'm calling The Big Three. (Author's note: My Big Three is not to be confused with Ice Cube's Big3 basketball league for NBA has-beens.)
Provided you're in a viable market, your strength (or weakness) in each Big Three category will determine the overall health of your business:
Software: You'll win deals and retain customers if your software fits their niche, has a friendly, modern interface plus reliable support at a reasonable cost. If your software is generic, outdated, inflexible, or overpriced, you'll struggle to keep merchants let alone expand market share.
People: Your staff needs to possess the skills, personality, and character to exceed merchant expectations today and tomorrow. High-initiative, positive-attitude employees trained on hard and soft skills are golden.
Systems: Internal operational systems keep quality consistently high. Organizations must continually update their systems to keep pace with a forever-changing market.
That's exactly 95 words you can compare your company against. Proficiency in two categories of The Big Three won't cut it; you have to excel in all three areas if you want a healthy, sustainable business. Some other retail IT channel experts might want to suggest a fourth or fifth pillar, but I'd counter The Big Three are of foremost importance.
I'm an evangelist of The Big Three model because it cuts through the infinite clutter of business operations and evaluates the pillars of your organization. I also like it because it reminds me of how my college basketball coach Bob Dukiet critiqued his players. His analysis of my abilities 30 years ago was spot-on, simple, and memorable.
Coach Dukiet's big three were: Head (basketball IQ), Heart (desire), and Legs (athletic ability). Before one practice, with the entire team sitting on their locker room stools, Dukiet drew a stick figure on the chalk board and provided each player a personalized Head/Heart/Legs analysis. Between critiquing the muscle-bound 6-foot-5, 195-pound forward to my left and the hulking 6-foot-10, 260-pound center to my right, Dukiet told the 5-foot-10, barely 145 pounds me: "Jimmy – you've got the head and, man, you've got the heart. Wow, do you have the heart!" He then winced and in a lowered voice said, "But the legs … the legs. Not so much."
I couldn't grow taller or broaden my shoulders to shore up my deficiency, but as a VAR or ISV leader, you have the opportunity (and dare I say the duty) to improve each area of your Big Three. If you have a business partner or management team, meet with them today for just 10 or 15 minutes and rate your company in each of The Big Three categories on a scale of 0-10. Take off your rose-colored glasses, be realistic, and quickly assess the fundamental pillars of your organization. Simply put, understanding where you have gaps is the first step towards making your business extraordinary.
---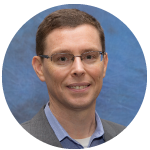 Jim Roddy
is the Vice President of Marketing for the
Retail Solutions Providers Association (RSPA)
. He has been active in the POS channel since 1998, including 11 years as the President of Business Solutions Magazine, six years as an RSPA board member, one term as RSPA Chairman of the Board, and several years as a business coach for VARs, ISVs, and MSPs. Jim is regularly requested to speak at industry conferences and he is author of Hire Like You Just Beat Cancer. For more information, contact
JRoddy@GoRSPA.org
.