By: Gabby Coor and Ashley Naggy, RSPA
The importance of building successful relationships—those with both customers and partners—was the focus during Day 2 of Inspire education. First, the audience–comprised of a healthy mix of resellers and vendors–heard how important it is to adapt to the changing landscape, learned sales techniques to engage the customer and how remain a trusted advisor by challenging the customer's expertise. During the second portion of the day, resellers and vendors were able to learn from each other through an interactive workshop and Q&A session.
UNDERSTANDING THE NEW GENERATION BUYER
On Tuesday morning, Michel Sirois, President of Bluestar Canada, took the main stage to address the inspire crowd about customer buying habits and the importance of adapting to accommodate how the "new generation buyer" prefers to make purchases. Sirois advised that "the game is changing."  He provided the audience with a profile of how these customers make their decisions:
57% of the purchase decision is complete before speaking with a vendor
By 2020, customers will manage 85% of their relationship without human interaction
75% of B2B buyers now use socials media to research vendors
55% of consumers start their online product searches with Amazon reviews
Sirois reminded the audience that "Amazon is changing the rules, and we have to adapt."The aforementioned, and companies like Walmart are employing services that are redefining customer expectations and setting new standards. For example, using Walmart's 'Jetblack,' shopping through text messaging is possible via a virtual personal shopping assistant. The new generation of buyers are most concerned with the ease of doing business. Specifically, millennials, who Time magazine dubs the "Me, Me, Me Generation," are particularly frustrated by slow response times, even more than unfair prices. Sirois also underscored the importance of having a unique value proposition; what are you bringing to the market that no one else is? Customers don't want you to tell them what they know, tell them what they don't know. Sirois shared the importance of learning about the customer's business before you meet with them.
According to Sirois, customer loyalty is driven mostly by the sales experience. 53% of customers choose to remain loyal to a company based on whether or not they had a positive buying experience. He also noted that the key to a positive experience is to hire the right salespeople, those termed "Challenger Salespeople," a nod to Dixon's and Adamson's "The Challenger Sale." This individual understands the customer's business but is not afraid to challenge their way of thinking by sharing new ideas and providing and educational element to the relationship.
HOW TO BUILD SUCCESSFUL CHANNEL PARTNERSHIPS
In keeping with the theme of the day, attendees also heard from a panel comprised of both resellers and vendors on how to establish and maintain successful partnerships within the channel.
Later in the morning, attendees were given the opportunity to find out what resellers want in a vendor and vice versa. During a collaborative workshop, each group was able to make a list of these priorities and traits, and then swap with their counterparts. A key takeaway from the activity: customers and partners should work together to achieve a common goal. Understanding the perspective of your customers and partners will help cultivate relationships that transform into lasting, long-term partnerships.
ELEMENTS OF A SUCCESSFUL PARTNERSHIP
Tuesday's panel addressed topics like channel readiness, VAR on-boarding, channel management and partner incentives. panelists gave insight on how to structure partnerships to help facilitate growth for both parties, finding advocates within the channel, and the importance of defining terms in partner agreements. Click the image below to download material regarding best practices for managing partnerships.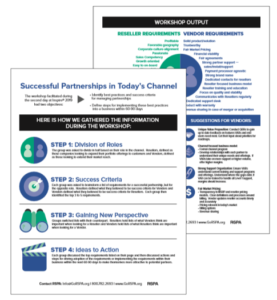 Tuesday's panel:
Moderated by Jeremy Julian, COO, CBS Northstar
Panelists:
Lindsey Buckley
Gene Harrison
Murray Bartholome
Jordan Statt
Roger Hert