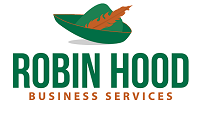 Please provide a description of your company in 50 words or less.
Robin Hood Business Services (RHBS) provides point of sale (POS) solutions, office supplies, furniture, shipping, copy and print services to local businesses. We are constantly looking for the best deals provided by the most reputable companies in the industry, as pass those deals along to you. As your partner, we will be there to get you where you need to run a successful business. We serve much of Eastern North Dakota from Devils Lake to Pembina to Grand Forks to Fargo, and Northwestern Minnesota from Detroit Lakes to Bemidji to Baudette to Hallock.
Why did you join RSPA?
RHBS is a reseller for many popular POS systems across a broad spectrum of retailers. As such, RSPA seemed like a good group to be connected with, both for networking and to stay on top of industry trends.
What are the core values of your company?
RHBS believes in always doing what is right for the customer ahead of doing what is right for RHBS. In that pursuit, we strive to take the pain out of choosing, installing, and maintaining our customers' point of sale systems. We always do this with a focus on improving merchant profitability.
What verticals do you serve?
Because our core USP is service, an in-person visit if necessary, we focus more on geography than we do on verticals. Our goal is to be able to provide the right solution to the right business. Therefore, we offer both restaurant and retail solutions. Most of out business is with small, local, and rural bars, restaurants, liquor stores, grocery stores, auto repair shops, and boutiques.
What products/services do you provide?
RHBS provides point of sale systems from cash registers to fully integrated retail and restaurant POS systems. We also offer office supplies, furniture, print, copy and shipping services.
Name one fun fact that makes your company different from others.
At Robin Hood we are "feared by the bad, loved by the good."
What is the most encouraging thing you see for the future of the retail IT industry?
The continuing increase in technology accessible to the small merchant is really exciting. We look forward to continue delivering technology solutions that make it easier for small merchants to be successful.
Connect With Us
Facebook
The best point of contact is Scott Fricke.
Email: scott@yourhero.biz
Phone: 218-689-7828
Get to know Robin Hood Business Services: