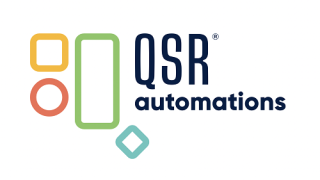 Please provide a description of your company in 50 words or less.
QSR Automations is a global industry leader in kitchen automation and guest management. Since 1996, restaurant operators have turned to the brand's signature platform, ConnectSmart®, for customized solutions that leverage whole-restaurant data to make calmer kitchens, simpler workflows, and happier guests. We didn't just pioneer restaurant technology, we perfected it.
Why did you join RSPA?
We made the strategic decision to join RSPA to strengthen our pulse on the industry.  By staying connected with industry leaders and peers and by sharing ideas, we all benefit from providing different perspectives from our various areas of expertise. 
What are the core values of your company?
Our company values include:
People First
Be the GOAT
Keep Work Fun
Celebrate Uniqueness
Be Humble
Be Brave and Courageous
Do the Right Thing
Embrace Fresh Thinking
Be Grateful
We promise to keep our Core Values at the forefront of everything we do by being mindful listeners and transparent with our intentions.
What verticals do you serve?
Our ConnectSmart suite of products can manage front-of-house, back-of-house, off-premise orders—and all three at once. We provide seamless service in all types of kitchens including restaurants, amusement parks, sports complexes, casinos, hospitals, universities, senior living residences, cruise ships, and more.
What products/services do you provide?
Our ConnectSmart Suite of Products:
ConnectSmart Kitchen – A back-of-house solution to improve kitchen workflow and communication. Keep pace during peak hours, with lower ticket times and faster table turns, providing an overall stress-free kitchen.
ConnectSmart Host: A front-of-house solution designed to create great guest experiences, both in-store and off-premise. Additionally, get detailed analytics and reports to help operations run more efficiently.
ConnectSmart Recipes: Create brand-loyal guests by delivering consistent meal quality every time. Give chefs, cooks, and administrators one less thing to worry about with recipes in a single location, simplifying kitchens across all locations.
ConnectSmart Insights: Track every operational data point in your restaurant, with real-time insights alongside historical analytics. With data visualizations and reports, you can identify trends, make quick decisions, and run a smarter, more profitable business.
ConnectSmart Go: Embrace the move to delivery and takeout dining by integrating your front-of-house, back-of-house, in-store POS, and even delivery partners. Create an optimized brand experience for every guest.
Name one fun fact that makes your company different from others.
At QSR Automations, we work with some of the best point of sale systems in the world to create seamless experiences for your customers. Since we partner with over 70+ points of sale, many customers can enhance their restaurant operations with our solutions without needing to change their POS provider.
Did you know that our leadership team is made up of 60% women? QSR Automations was one of the first pioneers in restaurant technology, dating back to 1996.
Connect with us:
The best point of contact is Outhay Glass, Senior Brand and Events Manager.
Email: oglass@qsrautomations.com