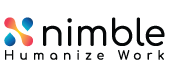 Please provide a description of your company in 50 words or less.
NimbleWork is a leading B2B SaaS provider of AI-powered Enterprise Work Management products and revenue enhancement solutions. We help teams and enterprises accelerate and successfully deliver their work and projects. Harnessing the power of Generative AI we enable retailers convert visitors to buyers and help retain them as satisfied customers.
Why did you join RSPA?
Actively participate in the Retail industry conversation
Socialize our Retail AI offering to both retail institutions and VARs
Get on-going inputs for our product roadmap
Have some fun too :}
What are the core values of your company?
Diversity, Equality and Inclusiveness
Respect for Individual
Honesty and Integrity
Compassion and Humility
Pride and Fun
What verticals do you serve?
Automotive, Manufacturing, Healthcare, Banking and Finance, Retail, Government and Defense, Consulting and IT Services,
What products/services do you provide?
We provide Nimble an AI enabled product suite for managing work & projects and kAIron a Generative AI based digital transformation platform for revenue enhancement. We provide consulting and implementation services in the areas of Work / Project Management and revenue enhancement for Digital Products like e-commerce web sites and software products offered as a service.
Name one fun fact that makes your company different from others.
We call a customer "Large" only when they exceed 100,000 users – we have many of them – We also have customers with just 10 users demonstrating the versatility of our solution
What is the most encouraging thing you see for the future of the retail IT industry?
Personalized Shopping Experiences: With advancements in AI and data analytics, retailers can offer highly personalized shopping experiences. Customers will receive product recommendations tailored to their preferences, leading to increased satisfaction and sales.
Augmented Reality (AR) and Virtual Reality (VR): AR and VR technologies are enhancing the shopping experience by enabling customers to visualize products in real-world settings before making a purchase. This technology can be particularly useful for industries like furniture and fashion.
Connect with us:
The best point of contact is Ram Subramanian.
Email: ram@nimblework.com