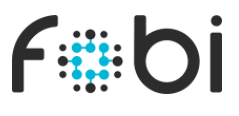 Please provide a description of your company in 50 words or less.
Fobi is a cutting-edge data intelligence company that helps our clients turn real-time data into actionable insights and personalized customer engagement to generate increased profits. Fobi's unique IoT device has the ability to integrate seamlessly into existing infrastructure to enable data connectivity across online and on-premise platforms creating highly scalable solutions for our global clients. Fobi partners with some of the largest companies in the world to deliver best-in-class solutions and operates globally in the retail, telecom, sports & entertainment, casino gaming, and hospitality & tourism industries.
Why did you join RSPA?
At Fobi we believe strongly in supporting Industry Associations, and as Retail is our key target industry, supporting RSPA and the great work they do in the Retail space was an easy decision.
What are the core values of your company?
Connectivity – We put connectivity in a new light. As links between data, devices, locations, and tech ignite, we bring momentum that powers real- time data-driven decisions and engagement. It's all about how everything works together—everywhere.
Partnerships – We value relationships—between partners, customers, and everyone in between. Putting relationships first means combining best-of- breed partners to offer the ideal solution.
Action – We speed up action through automation. The ability to act in real-time is something truly important to Fobi and its customers. Increasing efficiencies help businesses make more money and work less.
What verticals do you serve?
Our solutions are vertical agnostic and work for any and all businesses who struggle with disparate data sources and POS systems, however we have specific solutions for and have seen great success in the Retail Industry, particularly in Grocery, Convenience and Pharmacies.
What products/services do you provide?
Fobi IoT device and API for data collection, Business Intelligence and Artificial Intelligence for Data Visualization, and Wallet Pass solutions for real-time customer engagement and loyalty solutions.
Very recently, Fobi also launched CheckVax™: A unique app-less vaccine verification solution that makes running a business during a pandemic easier while creating safer and seamless customer experiences. CheckVax™is built to support and provide interoperability with Provincial and State government vaccine mandates worldwide. Click to learn more.
What is the most encouraging thing you see for the future of the retail IT industry?
The adoption of real-time personalized omnichannel marketing initiatives that will revolutionize the customer shopping experience.
Connect With Us
Website
Twitter
Facebook
LinkedIn
Instagram
YouTube
The best point of contact is Ezgi Kilic.
Email: ezgik@fobi.ai
Phone: +1-647-913-6670