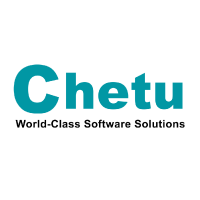 Please provide a description of your company in 50 words or less.
Chetu is a US-based software development company specializing in providing businesses worldwide with custom technology solutions. As a mobile and web-based application development company with over 2,800 skilled software developers, Chetu combines technological expertise, specific domain experience, and a passion for excellence to deliver custom retail software development services for brick and mortar, e-commerce, c-store & grocery, dealerships, shopping cart, mobile systems and more.
Why did you join RSPA?
We are excited to join RSPA to be among other industry thought leaders to network and develop strategic relationships, where we can exchange effective insights that will accelerate business growth.
What are the core values of your company?
Chetu's core values include:
Growth – We are committed to continuous learning, development, and implementation of new ideas and concepts because growth is a never-ending process, which governs life and business. Our company's collective mindset and culture is a reflection of this. Technology is ever evolving and we want to stay ahead by embracing innovation. We are an organically grown company and have experienced tremendous growth from the beginning.
Client-Focused Service – We work closely with our clients and make sure we thoroughly understand their needs so we can provide the right custom solutions. Our expertise and service is what separates us in the industry.
Transparency – We believe transparency and openness are key to success. We maintain thorough communication with our clients and with each other to present the facts, ensure accountability, and keep everyone on the same page.
What verticals do you serve?
We serve 40+ industries and verticals, including: Healthcare, Banking, Finance, Hospitality & Travel, Gaming, Food & Beverage, Transportation, and Real Estate, among many others.
What products/services do you provide?
For over 2 decades we've been a trusted provider of software development services. We also provide business process outsourcing and digital transformation services, along with various software and IT support services that help businesses with growth and scalability. Our expert developers have both technical expertise and industry-specific experience to create optimal business solutions. Our developers work in your nearshore time-zone to allow for real-time collaboration.
Name one fun fact that makes your company different from others.
We're all about driving innovation and it is fun and fulfilling for us. Some well-known and widely used innovative technology solutions out there were built by us, serving our clients' vision and needs. Some of our clients have gone on to be a part of large-scale mergers and acquisitions worth millions (and even billions) of dollars. 
What is the most encouraging thing you see for the future of the retail IT industry?
The most encouraging thing we have seen is the growing implementation of artificial intelligence as an innovative tool to take technology and the customer experience to new heights. We leverage the power of artificial intelligence (AI) to develop innovative solutions for all sectors of retail. These AI-powered technology solutions provide powerful avenues for modernization and optimization. The landscape is changing ever so rapidly and quantum computing is on our heels. You will need a software partner to help you keep up with this demand, and there are companies such as Chetu to aid in those efforts.
Connect with us:
The best point of contact is Margaret Gallo-Widom.
Email: tradeshowmarketing@chetu.com
Phone: 954-342-5676