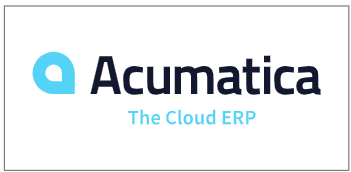 Please provide a description of your company in 50 words or less.
Acumatica Cloud ERP provides the best business management solution for transforming your company to thrive in the new digital economy. Built on a future-proof platform with open architecture for rapid integrations, scalability, and ease of use, Acumatica delivers unparalleled value to small and midmarket organizations. Connected Business. Delivered.
Why did you join RSPA?
Acumatica joined RSPA to develop relationships with ISVs and VARs that are looking to expand out to ERP. In addition, Acumatica joined RSPA to take advantage of all the resources and opportunities within the community.
What are the core values of your company?
Best in Class Business and Industry Functionality

Built on a modular and adaptable platform with Open APIs for rapid integration, Acumatica is designed for the way businesses operate today and in the future. Its flexible architecture allows for low code or no-code customization and added capabilities such as data visualization, Artificial Intelligence, and Machine Learning. All your business processes share the same data, information is available anytime, anywhere, and everything revolves around the customer. We know digital transformation is all about enabling customer success, and that looks different for everyone. That's why we offer flexible deployment, open integrations and full data transparency, so when your definition of success changes, we'll adapt with you.

Technology Leadership on a Future-proof Cloud Platform

Acumatica is tailor-made for midmarket growth businesses and enterprise branch offices. Get all that you need to enable the automated processes, accurate data collection, financial analyses and forecasting capabilities that drive better business insights and decisions; auditable information on inventory, supply chain, Op Ex, and profitability drivers ensure regulatory compliance and cost control; standard reports, custom reports, Power BI, Tableau, and data visualization speed time-to-insight; scalable, intuitive tools give you one solution to run your entire business, delivering automation without complexity, compliance without rigidity, continuous improvement without unpredictability. All your data is connected and at your fingertips, with no irrelevant functionality or inflexible processes to bog you down.

Customer Friendly Business Practice

Customers are our most important assets and we are committed to their success. Our licensing model, data policies, and support mechanisms are designed to meet the needs of customers, not shareholders, and are unrivaled in the industry. Acumatica is the only business management solution designed for the unique and evolving needs of growing midmarket companies, enabling our customers to put their customers' success at the heart of all operations.
What verticals do you serve?
Retail Commerce Omnichannel – B2B, B2C, DTC , Manufacturing and Distribution, & Construction
Fashion, Apparel, Footwear
Home Goods, Furniture and Décor
Toys, Hobbies, Sporting Goods
Electronics
Health and Beauty
Agricultural and Nursery Products
Automotive and Transportation
Cannabis
Digital Native Brands
What products/services do you provide?
The Acumatica ERP Retail Commerce Edition provides merchants with a full back office solution offering native integrations to third party applications, while supporting the front-end omnichannel solutions of ecommerce and point of sale. This comprehensive solution provides a wide range of industry specific capabilities such as Point of Sale, eCommerce connectors, Customer Self Service Portal, Reporting, Dashboards, Data Analysis Toolkit, Inventory Mgmt, Sales Order Mgmt, Customer Mgmt, and ERP Business Intelligence and Analytics.
Name one fun fact that makes your company different from others.
Fun Fact #1 – Diversity within Acumatica. We are an incredibly diverse team. Our teams are distributed across many regions. It's not unusual to be on a call with many people and each person have a different background.
Fun Fact #2 – Acumatica publishes and holds firm to a formal "Customer Bill of Rights" doctrine which guarantees all clients a fair and respectful engagement with every Acumatica representative throughout our ecosystem. Available publicly, see more here: https://www.acumatica.com/acumatica-customer-bill-of-rights 
What is the most encouraging thing you see for the future of the retail IT industry?
Innovation expanding within the retail industry, including Web3, AR & VR experience, and Metaverse potential. And of course, how ERP solutions give retailers the opportunity to scale their business, enhance retail performance,  and improve their customers' omnichannel sales experience.
Connect with us:
The best point of contact is John Covati.
Email: john.covati@acumatica.com
Phone: 904-544-7338