"RSPA Recommended Read" is a series of articles in which RSPA staff members share details from books we think would be helpful to leaders and aspiring leaders at VAR, MSP, ISV, and vendor member organizations.
By: Jim Roddy, VP of Marketing at the RSPA
We see this in sports and in the business world – including inside our POS channel. Some organizations win, win, win no matter what. How is that possible while you and the rest of the competition struggles to adapt and grow?
That's the question authors Jim Collins and Morten Hansen answer in their book Great By Choice: Uncertainty, Chaos & Luck – Why Some Thrive Despite Them All. During my business advisory engagements with VARs and ISVs, I encourage them to refrain from guessing about what works and instead choose to test, measure, and analyze their ideas. That recommendation causes me to refer to this Great By Choice passage: "Fire bullets, then fire cannonballs. First you fire bullets to figure out what will work. Then once you have empirical confidence based on the bullets, you concentrate your resources and fire a cannonball. A bullet is: low cost, low risk, and low distraction."
There's more great advice beyond that in the book. Here are some of my favorite Great By Choice passages:
Organizations do not thrive on chaos. But they can live in chaos.
The best leaders we studied did not have a visionary ability to predict the future. They observed what worked, figured out why it worked, and built upon proven foundations. They were more disciplined, more empirical, and more paranoid.
Just because your environment is rocked by dramatic change does not mean that you should inflict radical change upon yourself.
Discipline, in essence, is consistency of action – consistency with values, consistency with long-term goals, consistency with performance standards, consistency of method, consistency over time.
Paranoid behavior is enormously functional if fear is channeled into extensive preparation and calm clearheaded action.
If you deplete your resources, run yourself to exhaustion, and then get caught at the wrong moment by an external shock, you can be in serious trouble.
Enterprises at their best respond to empirical evidence rather than hype or scaremongering, and stick with proven principles and strategies in the face of frightening events.
A fast-moving threat does not call for abandoning disciplined thought and disciplined action.
Far more difficult than implementing change is figuring out what works, understanding why it works, grasping when to change, and knowing when not to.
The signature of mediocrity is not an unwillingness to change; the signature of mediocrity is chronic inconsistency.
Continually question and challenge your recipe, but change it rarely.
The environment doesn't determine why some companies thrive in chaos and why others don't. People do.
RSPA Recommended Read Rating: 9.0/10
You might have noticed one word that was mentioned four times in those quotes: discipline. A business might be able to survive for a while on a great line of products or a growing market, but it can't thrive in the long term without discipline. During his playing days, Michael Jordan would talk frequently about rhythm. Why did Jordan hit six consecutive three-pointers vs. Portland in the 1992 NBA Finals? He was in rhythm. What did Jordan say after scoring 69 points against Cleveland – making 23-of-27 field goals and 21-of-23 foul shots? "I found myself in a great rhythm." And when Jordan struggled? "I was totally out of sync. I couldn't get any kind of rhythm going."
What Jordan did on the court often appeared to be magical, but the reality is he had a second-to-none work ethic, competitive drive, and rigorous discipline. The companies in our industry that outperform you every year aren't successful because they're lucky or gifted. They're just more disciplined than you are. You can purchase Great By Choice here.
---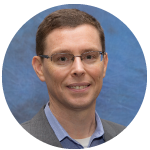 Jim Roddy
is the Vice President of Marketing for the
Retail Solutions Providers Association (RSPA)
. He has been active in the POS channel since 1998, including 11 years as the President of Business Solutions Magazine, six years as an RSPA board member, one term as RSPA Chairman of the Board, and several years as a business coach for VARs, ISVs, and MSPs. Jim is regularly requested to speak at industry conferences and he is author of Hire Like You Just Beat Cancer. For more information, contact
JRoddy@GoRSPA.org
.