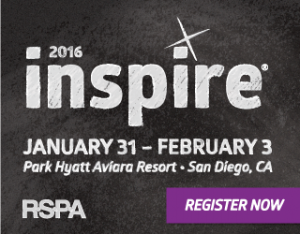 Charlotte, NC – The Retail Solutions Providers Association (RSPA), the only association dedicated to the retail technology industry, announced today that registration for its annual thought leadership forum, INSPIRE 2016 has opened. Keynoting the event will be Dr. Robert J. Bies, professor of Management at the McDonough School of Business at Georgetown University. During the three days of INSPIRE education, Bies will tackle the topic of "Create or Fail: Seeking the Competitive Advantage," which will also feature a guest appearance from digital marketing expert, Jonathan Perelman. INSPIRE 2016 will take place in San Diego, CA, January 31- February 3 at the Park Hyatt Aviara Resort. Event sponsors are Cayan and Future POS.
"INSPIRE provides the time and space for Point of Sale and retail technology leaders to think through issues that affect their businesses daily," said RSPA President and CEO Kelly Funk. "The learning spurs discussion, and those discussions facilitate collaboration; it's an environment that remains completely unique in our industry."
Bies has deep experience working with both not-for-profit organizations and Fortune 100 companies on topics related to his areas of research focus, including leadership, innovation and the delivery of bad news. The recipient of numerous awards and recognitions for teaching, Bies is also the Founder and first director of the Executive Master's in Leadership Program at the McDonough School of Business at Georgetown. In helping INSPIRE attendees to better grasp concepts of creativity and innovation in a competitive industry landscape, he will welcome additional guest speakers to the INSPIRE stage, including Perelman, who is currently the head of digital initiatives at ICM Partners, and formerly an executive at Buzzfeed Motion Pictures and Google.
In addition to the best in class education at the event, INSPIRE 2016 features numerous networking opportunities. Scheduled activities include as a Group Networking Cruise on the San Diego Bay and a private group dinner at the Officers Club at the Miramar Marine Corps base, all enabling attendees to have substantive conversations while enjoying the sights of the host city, San Diego.
INSPIRE is a three day event, in which attendees receive high-level executive education, access to the industry's top minds, hands-on leadership training, and the opportunity to make profitable connections with other attendees. It is an exclusive event, for those at the highest level of leadership within their organization. Learn more or to reserve your place at www.gorspa.org/Inspire.
---
About RSPA
The RSPA is the only association dedicated to the retail technology industry. The mission of the RSPA is to accelerate the success of its members in the point of sale ecosystem by providing knowledge and connections. The organization offers education, certification, a legal hotline, industry advocacy, and discounts on other services to assist members with becoming and remaining successful. RSPA is most well-known for its signature events, RetailNOW® and INSPIRE® which provide face to face learning and networking opportunities. Learn more by going to www.GoRSPA.org.