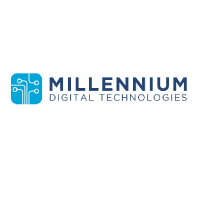 Millennium Digital Technologies
A leading supplier of specialty networking, security, PCI compliance, and technology management solutions for grocery, retail, food service, and more. Our Managed Network solution (MNS) provides drop-in TotalPCI Compliance bundled with a comprehensive suite of features designed to fulfill the most common technology needs found in the typical merchant environment. In addition to compliance functionality, our Managed Network Solution includes a feature set including our NetGaurd Cellular Network Backup including unlimited monthly data, integrated Wide Area Network (WAN) for multi-location merchants, PCI-compliant two-factor remote access, direct credit processor connectivity and more. Our Managed Network Solution is the most comprehensive and cost-effective option available for you and your merchants.
Our support team integrates with yours. You have one-on-one personal contact with our team members who are dedicated to your account. This means faster service and better results freeing up your tech team for their other priorities. From the top line to the bottom line, MDTech has solutions to help you better manage and secure your technology while maintaining fiscal sensibility.
Please contact us at sales@mdtusa.com or 877.263. 8324 for more details.
Other Products and Services