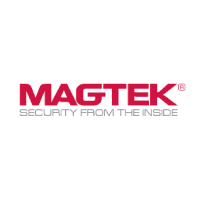 MagTek, Inc.
MagTek is a leading manufacturer of electronic systems for the reliable reading, transmission, and security of cards, checks, PINs, and identification documents. Leading with innovation and engineering excellence, MagTek is known for quality and dependability. Its products include secure card reader/authenticators, small document scanner, card personalization devices, OEM components, and PIN pads. Able to accept magnetic stripe, EMV contact, and EMV/NFC contactless payment types, these products are used worldwide by financial institutions, retailers, and processors. MagTek's MagneSafe® Security Architecture leverages strong encryption, secure tokenization, dynamic card authentication, and device/host validation.
Magensa, LLC is a subsidiary of MagTek, Inc.. Serving enterprises globally, Magensa provides a wide range of innovative tools and transaction processing services for authentication, cryptographic security, and privatization of sensitive data. Magensa's encryption/decryption services, payment gateway services, tokenization services, remote services, and applications are used by software developers, ISVs and systems integrators to bring their applications to market faster and more securely.
Headquartered in Seal Beach, CA, please visit www.magtek.com.