By: Stephanie Hayman, Marketing Manager at TSYS
Whether you're a rookie in the corporate world or a seasoned veteran, conveying your personal brand in the professional landscape is a carefully crafted task. How you are perceived by your colleagues and superiors as a person has a direct relationship to your career's overall trajectory and your reputation throughout your network. Though fine-tuning hard and soft skills can seem to take precedence, creating your persona should always be your #1 goal.
I have spent the better part of the last nine years honing in on character development, first impressions and my own personal perception. It's introspective, it's fun, and determining who you are and what you stand for in the workplace is what is going to keep you memorable. Here are three ways that I have built my personal brand, and attribute these tactics to my success:
[Correct] Communication Skills
Verbal communication is huge. HUGE. Whether you're a solo presenter in a boardroom of executives or having a 1:1 conversation with a prospect, your level of animation and comfortability in speaking will precede what you are speaking about.
The only thing that can usurp verbal communication, in my opinion, is written communication. Check and double-check your emails. Watch your spelling, grammar, and punctuation! Make sure you are using the correct forms of their/there/they're where appropriate. A former boss of mine and I used to joke because when our agency presented to us and misspelled something in their deck, I only listened to their pitch at a 50% level. Written mistakes make a difference, and people are watching. Make sure you are polished.
Dress to Impress
Though petty in nature, how you present yourself is a direct reflection on your own levels of etiquette and respect to some degree. Your industry somewhat dictates your dress (casual vs. business casual vs. business), but you have the ability to totally control your own presentation. For instance, wearing a suit to a high-level meeting is certainly more appropriate than jeans and Converse. Your company logo doesn't show up halfway to work, so why should you?
Similarly, how you dress speaks a lot to your personality. I am known for wearing a lot of bright colors; fun heels that I match to my earrings. All office appropriate, but allows me to exude who I am while still maintaining professionalism. I can credit a former boss for her inspiration on the importance of dressing well, but still letting your inner superstar shine through.
Tell A Story
Each one of us has an audience that we are trying to communicate to, and we all have something to say. Communicate your thoughts via video, social media, thought leadership, etc. Let your stories be directly tied to your personal brand, so people recognize them as part of who you are. After all, relationships are built upon communication, which ultimately ties back to our experiences as an individual.
---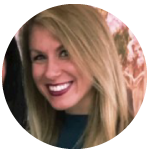 Stephanie Hayman is a Marketing Manager for TSYS and a current member of the RSPA Marketing Committee. Stephanie is a traditional and digital marketer with 7+ years of corporate and agency experience in the B2B and B2C realms, whose portfolio includes companies and clients like TSYS, Canon USA, KISS Products, and CityMD. She joined the TSYS team in September 2018 and earned an MBA in Marketing in December 2018.