Providing services is crucial to the continued longevity and success of the VAR channel. But, many VARs will not engage in or offer to provide them. As a result, in today's increasingly competitive marketplace, their business may slowly ebb away. In many cases, someone is providing these services to your customer. Why shouldn't it be you?
It seems as if the list of services grows every day: Carrier Services, Configuration Services, Customer Analytic Services, Data Recovery Services, Hardware Warranty Services, Installation Services, Integration Services, Managed Service Providers, Merchant Services, Professional Services, Remote Monitoring and Management Services, Security Services, Software Maintenance Services. . . . Although VARs may not have the resources or core skills to provide these services themselves, there are many service providers to partner with who can—whether local, regional, or national. And with cloud access, partnerships can be formed to accommodate virtually any geographic area and scale, from SMB to Tier 1. In many cases, adding services provides such a healthy profit margin that outsourcing to a service provider makes better business sense than going it alone.
Four Profitable Retail Services to Consider Offering Now
Customer Experience Services
Currently, the biggest differentiator in the success of a retailer, whether online or brick-and-mortar, is Customer Experience. There are many options available for VARs to introduce to SMBs as well as to Tier 1; and these applications can be added aftermarket, which is a great reason to revisit every customer you have. At RetailNOW 2017 in August, four Customer Experience solutions were featured in the "Shark Tank" session. The scope of enhancements to offer end users is virtually limitless—from optimizing the shopping experience by collecting individual feedback/comments, to analytics mapping and comparing trends in businesses similar to those of your customers, to tracking shoppers' patterns throughout the store, to providing line-busting as an alternative to long checkout lines. As a VAR, supplementing these services by providing analysis of that data and by identifying trends captured by these applications can prove to be a very lucrative revenue stream. Whoever owns the data owns the future.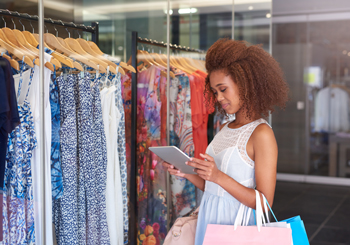 Secure Data Recovery Services
No one enjoys paying for insurance, unless an emergency happens: then it's priceless. Same with Data Recovery Services. The ability to quickly recover from such disasters as hard drive errors, file and database corruption, fire/smoke/water damage, and employee errors—and to get a business up and running again, while securing customer payment information and sensitive data—easily justifies the ROI of this service, especially in the Retail/Hospitality space.
Merchant Services
Any business taking credit/debit card payments utilizes merchant services. There are so many options now—including gift cards and loyalty programs. Look for a channel-friendly option that includes revenue sharing with VARs. With EMV mandates as well as PCI compliance to consider, the timing couldn't be better for discussing the options with your customers. Remember, they need this service; and as a VAR, you should be a partner in providing it—before someone else does!
Managed Service Provider
A managed service provider (MSP) is a company that remotely manages a customer's IT. Using a cloud Remote Monitoring and Management (RMM) platform, an MSP can remotely monitor the health and functions of technology products/infrastructure such as mobile devices, network infrastructure, and POS Systems. This proactive approach, rather than a break/fix model, makes managing the provider costs much more efficient. There is a predetermined Service Level Agreement (SLA) in place—such as a Bronze, Silver, or Platinum level of service—outlining the scope of work and responsibilities. MSPs usually receive a flat monthly fee under a subscription model, thus building a recurring revenue stream.
This article just scratches the surface of the countless business opportunities afforded by adding these services to your offering. Each service also can lead to acquiring a very important differentiator for your company: a business partnership. By providing these retail services, you become imbedded in the day-to-day, mission-critical business operations of your customers. This stickiness will help ensure a longer and more profitable relationship between you and your end users.
---
Velda Goodin is manager, Technical Services and Solutions Strategy at ScanSource. Her passions are reflected in her track record for "connecting the dots." Velda thrives on recognizing trends and capitalizing on them to ensure the health and relevancy of VARs and distribution in the channel.
Download a PDF: