By: Josh Sullivan, Owner, Magnolia Innovative Solutions & Member, RSPA Strategic Technology Solutions Committee
Over the last few years, I have thought a lot about customer communication. Like many companies, as our customer base has grown, we have wrestled with managing sales calls and emails, support tickets, general inquiries, and more. In this article, I am going to list some pros and cons of various platforms we have used. 
I would like to begin by saying, for us, this is a moving target. We are always looking for more customer-centric ways to connect. At the end of the day, the ability for potential and current customers to connect with the company is going to make or break the deal. 
Our go-to solution is Zendesk – a popular ticketing platform. Since people still rely heavily on email, Zendesk allows us to create tickets from direct emails as well as using their API to build a support form on our website. Zendesk allows us to organize and prioritize tickets, and we also have our company number routed through the platform. When people call, a ticket is automatically generated against the call.
An incredibly popular solution that we have also used is Intercom. Intercom is a real-time chat platform, and we have embedded it in our website. When people visited our site, they could open a chat, and we would chat with them almost in real-time (if we are online). This is an excellent solution, but it can be costly for additional add-ons.
We have also used our social media platforms, namely Facebook and Twitter, to field customer questions. While this is convenient, since everyone is on one or the other, I have reservations about discussing customers' questions and concerns. I prefer to reserve sensitive correspondence for email. 
Lastly, I am considering a more "chat" like approach to customer communication. The one app that stands out most to me at the moment is Telegram. Telegram is a super private and FREE app used by millions worldwide. It gained a lot of popularity in the midst of the hacking of Facebook and other social media sites.
Why use a chat app for support? This is the question I wrestle with the most, and here are a few considerations that come to mind. First, customers want to feel like the companies they partner with, especially in technology, are incredibly accessible. Many tech companies think this level of customer service is not a scalable solution, hence why you cannot "talk" to support for many apps.
Secondly, Telegram is a platform that supports a lot of different media formats, from general text messages to documents. I feel comfortable sharing sensitive media across the platform with clients while still ensuring a high level of security. 
Thirdly, Telegram has the concept of "bots". Bots give us the ability to build in automation. For instance, by typing a simple command like "/call", the bot can initiate a call between Telegram and the company phone number. Or maybe use "/support" to initiate a support ticket. I see a ton of different uses with this.
While there are many different approaches, and I have really only scratched the surface, the one thing remains true – customers want to know they are heard and understood. Customers want to know that we will handle issues in a timely and efficient manner. The more we can fine tune and tailor that process to our business workflow, the better we will be to both onboard new clients as well as retain our current ones.
---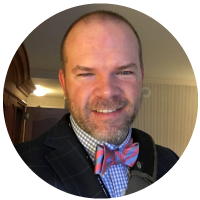 Josh Sullivan owns a technology consulting company that specializes in cloud solutions and custom development. He has been in business for 6 years and serves clients around the world. Josh is also is a founding member of the Partner Advisory Council for Dropbox and Google where he continues to sit on the boards. Additionally, Josh sits on the technology board here at RSPA. He enjoys spending time with his wife and 4 daughters, reading, skateboarding, and traveling.