By: Niki Rogers, Co-founder and VP of User Experience at Solvent
Since the beginning of our modern American history, new frontiers have fueled innovation, which in turn caused uncertainty–but for a select few, it signified opportunity. Cornelius Vanderbilt was one of those pioneers who quickly transitioned early 19th-century shipping methods from steamship to railway when he realized the need for more reliable shipping methods. Once the shipping infrastructure was in place, John D. Rockefeller realized a world where everyone would have access to refined kerosene, allowing them to light their homes at night. One innovation ultimately enabling and leading to the next.
Very little has changed from those days, except that the frontiers we face are a bit less primitive and more technological in nature. Ask serial entrepreneur Mark Cuban, and he'll say, "I think entrepreneurs look at things that are changing and are able to see those things and say–I can create a business out of that." The question is, when faced with uncertainty, does one see the opportunity for growth or the risk of failure?
The payments industry is no stranger to technological disruption, especially the kind fueled by compliance and regulatory changes. In 2014, the implementation of EMV had far-reaching consequences that put many resellers unwilling to adapt, out of business. In 2019, the threat–or opportunity–now emerges with open banking, a concept that is redefining the rules of engagement for banks using financial technologies. "Banks are going to play a special role in the next ten years that will require them to have to innovate. A bank's role is necessary to combat fraud by forcing financial systems to standardize accounts and transaction data. This transparent ecosystem will become the entry point for all new fintech to provide new value for customers across the country," says Solvent CEO, Tony Richards.
Open banking aims to standardize the way banks handle account information so that it can be securely shared between authorized organizations via API at the consumer's request. Once standardization happens, the movement will turn toward integrating real-time payments because banks have a record of everything we spend; they just do very little with that information. Real-time payment integrations will allow banks to pass rich information to third parties who can do more analysis and provide services on behalf of the bank. At Solvent, we call this the banking ecosystem model.
Serial entrepreneur Elon Musk, well known for revolutionizing payments, believes that "some people don't like change, but you need to embrace change if the alternative is disaster." His sentiments are especially true for the cannabis industry, which in certain ways, has set a precedent use case for open banking–facing imminent federal enforcement as an alternative. The high-risk nature of cannabis businesses has brought into question whether or not they should have access to banking or payments for that matter. Solvent has seen first hand how technology can streamline banking compliance in high-risk industries like cannabis, alleviating the risk on the financial institution to essentially treat those businesses like any low-risk entity. This technology creates a side effect of trust and transparency that opens up new revenue opportunities within the bank, such as real-time payments for compliant merchants.
But let us be clear, this technology is compliance enablement–which means it is holding the door open for those who want to play by the rules in this new emerging ecosystem. Since 2012, payments have been providing and implementing new standards for compliance to reduce the risk of breaches for credit card fraud. If resellers want to offer merchant services in high risk, there is a clear and defined avenue to get involved with this new set of standards and support (on top of existing PCI compliance) that resellers can fulfill. We envision a space where banks, mainly smaller/decentralized branches, will utilize this fintech and subsequent network to service their merchants in brand new ways. We see an enormous opportunity for networks like RSPA to participate.
No one has been more passionate about integrated payments then Matt Ozvat, former fintech executive at Worldpay and co-founder of Solvent. "It's a more holistic approach beyond just payments and technology. The need that resellers must fill moving forward is the role of a trusted advisor providing not only POS technology at the merchant location but a new set of compliance requirements beyond PCI that will assist merchants in maintaining their banking relationships." And as resellers, there is no one better to assist banks in navigating payments. Resellers are like Vanderbilt to the railway because they get the market. New tech is like Rockefeller, discovering new ways of injecting innovation into the existing rail systems in the fintech ecosystem. This era of distribution and technical change presents new market segments for payments. By leveraging technologies that provide the underlying compliance and assurance for banks, it reduces the leg work needed to offer niche services on top of that.
---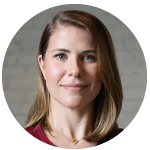 Niki lives to tell stories through technology. As a graduate of the University of Maryland R.H. Smith School of Business–Niki has built her career prototyping, designing, and implementing technological platforms in countless industries all over the world. As Co-founder and VP of User Experience at
Solvent
, she now works closely with banks and fintech partners to design and implement a financial ecosystem where the two worlds effectively collaborate. The information gathered from this process has created an incredible source of insights and data that she and her team are excited to share with the RSPA community. To learn more, contact
hello@solvent.io
.