By: Stephanie Hayman, Marketing Manager at TSYS
Is higher education really the 'new' internship when it comes to personalized market differentiation and talking points on your resume? Though nothing can compete with true on-the-job experience, is cracking open the books for a second time as a full-time employee worth the sacrifice?
Achieving an M.B.A isn't obligatory if you are gunning for executive level status in the future, which is why many may be wrought with the decision: What is the intrinsic value behind the degree itself? Though all candidates and prospective graduate students will have different reasons for furthering education, it's important to conduct a cost/benefit analysis prior to signing a letter of intent, determining the internal and external value that your commitment will bring to your career and overall persona.
Internal Value
Counter-balancing work and education at a higher level is full of sacrifice and focus. It teaches individuals the mastery of time management, emotional intelligence, and prioritization. Before I began my journey, I weighed out the pros and cons in terms of what was important to me, allowing me to determine the degree's qualitative value:
Pros: Personal satisfaction, career elevation, key learning about business, development, educational advancement.
Cons: Expensive, time-consuming.
Aside from focusing on the increase in money and status, do some soul searching and dig deep into determining an M.B.A.'s overall meaning for you as a person. Everyone will have differing opinions on this, dependent on what your goals are. For me personally, I decided to pursue my degree at 25, with the goal of completion by the time I was 30.
Return on Investment
Some top-tier business schools can cost upwards of six figures for a two year program. Forecasting the ROI stemming from your schooling will be in your best interest before signing on the dotted line and donning that university t-shirt.
First, take a look at your total academic cost in comparison to your current monthly net intake, and the length of time it will take you to get out of the red (i.e. If you spend $75,000 on a two year degree and you make a gross salary of $75,000 per year, how long will it take for true pay off to occur?) Will you be taking out student loans? What is the interest rate and projected dollars that will accrue over "X" years of payment? Setting up an amortization spreadsheet will allow you to dig deep into the quantitative data, and provide you with big picture insight as to what your budget can be for level of academic investment. From there, it's also important to aim high and think of what your goal salary will be upon degree completion. What are you willing to do to negotiate a raise once you have that piece of paper in hand? How do you want this to shape your career path? It's all in your hands.
As they say, a picture is worth 1,000 words; and a higher ed business degree is worth thousands of dollars!
---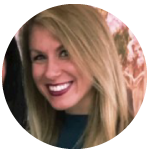 Stephanie Hayman is a Marketing Manager for TSYS and a current member of the RSPA Marketing Committee. Stephanie is a traditional and digital marketer with 7+ years of corporate and agency experience in the B2B and B2C realms, whose portfolio includes companies and clients like TSYS, Canon USA, KISS Products, and CityMD. She joined the TSYS team in September 2016 and earned an MBA in Marketing in December 2018..