By: Sean Gunduz, interim director of product management & technical services, Business Systems Division at Epson America, Inc.
It's safe to say that even after the pandemic lifts, it won't be business as usual for the majority of retailers. The country has changed, and many people realize just how vulnerable to outbreaks like coronavirus and other diseases we are. That said, most people agree we can't shelter in place for a year and wait for a vaccine. And that's where we are now — seeking the middle ground where retailers can open their stores and welcome customers, while mitigating the potential spread of COVID-19.
Technology solution providers have a critical role to play in helping merchants achieve their safety goals. Here are some essential technologies and best practices to keep top of mind as you assist your customers:
Contactless payment — cards with NFC chips and mobile payment solutions like ApplePay and GooglePay are finally taking off. Given today's need for less face-to-face interaction and less physical contact to help reduce the spread of viruses, what was once the outlier is now the demanded norm. Many POS systems already support these technologies, but merchants and customers need to be made aware, so they can use it.
Self-checkout and self-service — kiosks and POS terminals that minimize person-to-person contact and allow customers to retrieve their POS printer receipts automatically rather than from a person are an essential offering during these times. A good best practice is to use antimicrobial screens and sanitation-friendly equipment to reduce further the spread of germs on POS touchscreens and PIN pads. Using computers and peripherals that can withstand strong cleaning agents is also a must.   
Online ordering – With the rising interest in curbside pickup and BOPIS (buy online pick up in-store) services, POS systems need to support multiple online ordering platforms to satisfy customers' various preferences. It's also vital that the merchant's online ordering platforms be integrated with their POS system to avoid the challenge of managing disparate systems.
AI Integration — voice AI solutions that enable customers to speak commands to kiosks or terminals instead of touching screens are a welcome addition to the technology stack. Some of the key features that make AI attractive include:
Using voice commands to activate a kiosk and scroll through menus
Enabling a full contactless merchandise search and checkout experience
Equipping merchants with unattended stations to control operational expenses
Providing each customer with a personalized experience based on their shopping habits by integrating the AI solution with customer loyalty programs
HVAC updates — helping your customers update their HVAC systems with HEPA-level filtration helps them show their employees and patrons that they're making safety a top priority.
Store layout changes — narrow aisles and excessive on-hand merchandise make it nearly impossible to maintain an adequate social distance from other shoppers, and it can frustrate the customer shopping experience. Helping clients create environments that promote social distancing is critical to creating a positive shopping experience.
Improve in-store pick-up options — creating a dedicated BOPIS area located away from traditional checkout lanes is a great way to help prevent long checkout lines (i.e., large crowds). It also can improve customer checkout speeds, which improves the customer experience.
Curbside pickup — this service takes the BOPIS concept one step further by enabling customers to remain in their vehicles (i.e., less person-to-person contact) and have a store employee bring their order to them. The merchant must make it easy for customers to communicate with them when they arrive, so the customer doesn't have to enter the store and track down an employee, which completely defeats the benefits of this service. One way to solve this problem is by using designated parking spaces for curbside pickup and including instructions at the pickup area. (e.g., "Text 01 to 65485, and a store associate will bring your order shortly").
Many of the technologies and best practices listed above were trending before the pandemic. The big difference now is that removing the friction from the customer shopping journey used to be primarily about faster checkouts. While speed is still critical, the top priority is showing customers that their health and safety is your top priority.
---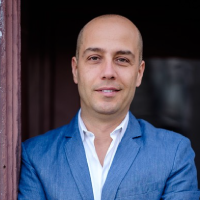 Sean Gunduz, Interim Director Product Management, Business Systems

Sean Gunduz joined Epson in 2010 as Product Manager on the Projector Marketing & Development team. He moved to Consumer Imaging (scanners) in 2016 where he was promoted to Group Product Manager. In 2019, Sean transferred to the Business Inkjet (BIJ) team. In both the Scanner and BIJ roles, he has partnered closely with sales to establish effective channel management programs and develop clear and compelling value propositions. Sean is currently serving as Interim Director Product Management at Epson's Business Systems Division, to ensure the group's critical and continued success.
Sean's high-energy style and high standard of excellence for driving results have made a noticeable impact on these key growth businesses for EAI. Prior to joining Epson, Sean held several product marketing roles with ViewSonic Corp and product management and account management responsibilities with BenQ.
Sean has a Bachelor's degree in Computer Engineering and an MBA from North Carolina State University.