By: Michael Buchanan, CEO of Cloudbox Inc.
Now is the time to look forward. With Retailers being able to trade again, they are facing the huge challenge of product overstock situations combined with a need to generate cashflow. Some large retailers are able to 'warehouse' overstock products and out-of-season items such as apparel for 9 months until 2021. However, not all retailers and retail sectors are as fortunate, either for cost reasons or the time-sensitive nature of their goods. 
The need to generate cash flow is forcing increased competition for consumer spending in a now more cautious and price-sensitive world.
The Strategic Approach to Solving the Problem
The benefits of omnichannel retailing, in terms of having a consistent customer experience across all consumer touchpoints, are well accepted. In order to get their cash flow moving again, retailers now need to make their offerings even more attractive to win over customers who are likely to be more price sensitive and less loyal than ever but who still want to buy 'value' and not 'cheap'. This will be relevant across all retail sectors from convenience to apparel and beyond.
Turning Strategy into Action
Retailers need to take all the attributes of the omnichannel approach to retailing and apply them as effectively as possible to the total stores' estate. While this short video showing a clothing example, the principles of Omnichannel marketing are still clear and can be applied to many retail sectors including convenience stores:
By focusing on the in-store pricing and price mark-down strategy and implementing flexible technology that allows store staff, with corporate direction, to react to consumer behavior, the 'Customer Experience' can simply and quickly be adapted to maximize their spend using such tools as "WAS/NOW" pricing and "Special Offer" labelling.
The Advantages of an Efficient In-Store Pricing Strategy
Cost savings over historical approach
               – Print the requisite labels, only when they are needed
               – Plain labels are cheaper than printed labels
Save staff time on pricing function
               – More time engaging with customers
Better store & brand image
               – Consistency across sales channels and Customers buy value not 'cheap'
Simplicity & clarity of pricing = greater purchase rate
               – Customers will walk away if final price is not clear
Fewer pricing mistakes & POS over-rides, less lost revenue
How Can Technology Help?
If any retailer is using handwritten 'mark-down' and 'Special Offer' tickets, there is clearly scoped to improve the in-store customer experience and the retailer's image in the eye of the consumer. Likewise, with the use of price guns in-store. 
Technology solutions, which give the retailer a low-cost but effective pricing toolset which is expandable as the retailer grows, range from just a few hundred dollars per unit as a capital purchase.
However, if the retailer wishes to preserve cashflow, the Printing as as Service (PaaS) option is also available allowing the store to pay a monthly fee for the technology and the labels.
The solution, whether PaaS or capex, can be anything from a standalone, desktop or mobile solution or a fully integrated company-wide, multi-store corporate pricing and markdown solution. 
What is in it for the Solution Provider/Implementer?
Whether it is an internal IT dept or an external solution provider, there are several benefits for the organization delivering the solutions to the end-user touchpoints or stores, whichever retail sector they are in:
They are saving the store money and improving their service – thereby adding value to their customer
They are bringing a new revenue stream to their organization as traditional sources diminish
They are developing an ongoing annuity revenue stream through label sales and PaaS options
They are delivering a wider range of complete solutions: diversification of revenue sources
---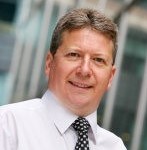 Michael Buchanan and
CloudBox Inc.
are committed to providing customers and partners with a cost-effective and efficient service by utilizing best-in-class partners, suppliers and processes. Through this philosophy, they have established relationships with a number of key service providers and partners which allows them to be flexible in the service delivery to their customers. For more information, email
michael.buchanan@cloudboxinc.com
.