By: Gino Geruntino, Marketing Specialist at PAR
For many of us dealing with the coronavirus pandemic, our local drive-thrus have been a convenient way of getting the food we love from restaurants we want to support. But for quick service and fast-casual chains across the country and around the world, the drive-thru has been a saving grace pulling them back from the edge of financial ruin.  
By combining speed, convenience, and safety, drive-thrus have become synonymous with fast-food culture since the first lanes were created more than 70 years ago. At a time when restaurants faced incredible hardship due to shutdowns, restrictions, and cautious guests, the drive-thru proved to be a safe way of getting a quick bite to eat before work, feed the family on a Friday night, and provide a tiny bit of normalcy in an upside-down world. 
Fast forward one year later, and the pandemic is still around, but the country is finally starting to show signs of renewed life. Restrictions have been cautiously lifting across the U.S., and vaccine rollouts are hitting their stride. People are even back to eating inside restaurants again, though there are plenty of restrictions in place. However, for the quick-service segment, and even for a growing number of fast-casual chains like Chipotle and Pizza Hut, the drive-thru is still becoming the preferred way of attracting more convenience-conscious customers.  
A New Fast-Food Culture
Drive-thru started booming early in 2020, but recent statistical data is painting a more detailed picture. According to a report recently published by BlueDot and SeeLevel HX in August 2020, nearly three-quarters of those surveyed said they visited the drive-thru the same or more often than they usually would. That is more than 40% higher when compared to the first survey performed in April 2020. More telling is that according to their most recent data, more than 90% of those surveyed visited a drive-thru in the last month. The encouraging results have given concepts of all sizes the confidence to adjust their plans and invest more heavily in drive-thrus and other off-premise technology. 
Pizza Hut, which has more than 6,500 units in the U.S., has installed what the company calls "Hut Lanes" to about 1,500 locations. The drive-thrus, which support online, app, and phone orders, address two issues the pizza giant has faced recently, including a decline in dine-in customers and challenges with having enough delivery drivers. Locations without the new lanes will offer contactless curbside pick-up alongside their standard delivery options. 
Chipotle is also continuing its push to maintain strong digital order sales growth by adding "Chipotlanes" to new and existing locations. The fast-casual Mexican chain first introduced the digital order pick-up lanes in 2019 as a way for guests to quickly grab online orders without having to leave their vehicles and has become a popular option for guests.  
This coincides with the concept's pledge to hire as many as 10,000 more employees to keep up with digital sales, which saw a massive boost in 2020. The company estimates about 60% of its new locations will feature a "Chipotlane" to spur more business. 
Smaller brands, like Sweetgreen, are also taking advantage of the new ordering climate by opening a drive-thru/drive-in location in Colorado later in 2021. The restaurant will have a drive-thru, eat-in stalls where people can enjoy their meals in their cars, and an outdoor patio area

Putting the "Quick" Back into Quick Service
The pandemic hasn't just changed the way restaurants are approaching and rethinking the drive-thru; it's pushing them to reimagine how customers engage with them from the moment they pull up to order to pick-up and beyond.    
According to SeeLevel HX's 2020 Drive-Thru Study, total wait times were almost 30 seconds longer in 2020 than in 2019, but there is a slight catch to that statistic. This is largely due in part to increased traffic, especially in during the early months of the pandemic. In some cases, restaurant operators were seeing more than double the number of customers coming through their lanes, compared to pre-COVID conditions. The same report explains that the service time, which starts when a guest places their order and ends when the food is picked up, was about 17 seconds faster, dropping from 255 seconds in 2019 to 238.1 in 2020.   
Additionally, customers and operators alike are taking advantage of emerging technology to maintain order accuracy and keep overall throughput high. Chiefly among them are the use of order confirmation boards. SeeLevel HX's study determined that of the locations with order confirmation boards, service times were more than 17 seconds faster compared to traditional set-ups. The faster car throughput also led to additional savings per store, potentially nearly tripling per store savings from about $14,000 in 2019 to more than $39,000 in 2020.
Restaurants of the Future  
The industry is still recovering from an incredibly tough 2020. However, the pandemic has pushed innovative companies to invest in new technology, bulk up their drive-thru operations, and, ultimately, quickly deliver more accurate orders. Guests have come to expect quick service with a smile, and even with dine-in locations coming back online, the restaurant drive-thru is still going to be an integral part of QSR eateries for years to come. 
The stats coming out of 2020 would stand to back up that claim as well. According to the recently released Delaget 2020 QSR Operational Index, drive-thru captured north of 82% of total QSR sales amongst their 6,000 quick-serve restaurants and is a sharp increase over the previous year's 66.8% percent. While some of the increase is likely due to closed dining rooms that forced guests to the drive-thru, the company's data was also quick to point out that counter sales had been losing ground since 2018. As off-premise ordering continues to also play a more vital role in the overall sales process, drive-thrus, express lanes, and curbside options will remain strong compared to traditional counter sales. 
A few of the industry's largest players, including Burger King, Taco Bell, McDonald's, and others, are already looking for the next big thing to enhance the drive-thru experience. They are considering everything from express drive-thru lanes that use conveyor belts to deliver food directly to guests who have ordered online to walk-up windows, artificial intelligence ordering assistance, designated pick-up spots in their parking lots, and even living windows that show what kitchen staff is doing. The sky is truly the limit for QSRs across the country.   
The drive-thru revolution has shown no signs of stopping, and with speed, convenience, safety, and accuracy taking on greater importance, the industry is stepping up to meet the challenge. While the drive-thru is only one piece of this puzzle, it is part of a more holistic approach to operating a fast-food chain. One thing is for sure; QSR restaurants are rapidly evolving inside and out and will look drastically different in only a few short years.
---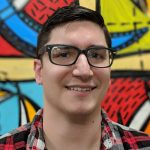 Gino Geruntino is a Marketing Specialist for PAR, helping drive leads for PAR's hardware and software products. He holds a Bachelor's degree in Broadcast Journalism from Utica College of Syracuse University. When he isn't working, you'll likely find Gino hiking the trails near his home or trying out a few new recipes.