By: Chris Arnold, Marketing Manager at the RSPA
Do you want to know the silver-bullet system Amazon, Intel, and Nike use to expand into new markets? Unfortunately, just like in most every other aspect of life, there is no silver bullet. But there is an underlying system these three high-growth companies utilize – it's called the Flywheel, and you can build one for your organization after reading the Turning the Flywheel: A Monograph to Accompany Good to Great by Jim Collins. This short, impactful guidebook accompanies Good to Great by Jim Collins, a the bestselling author frequently mentioned by the RSPA's Jim Roddy in his annual list of Recommended Reading for SMB Executives.
Here are some of the most memorable passages from Turning the Flywheel:
In creating a good to great transformation, there is no single defining action, no grand program, no single killer innovation, no solitaire lucky break, no miracle moment. Rather, it feels like a giant, heavy flywheel.
Once you get your flywheel right, you want to renew and extend that fly wheel for years to decades – decision upon decision, action upon action , turn by turn – each loop adding to the cumulative effect.
Each step should be seen as an inevitable consequence of the step that came before. It must capture the sequence that ignites and accelerates momentum.
The greatest danger in business and life lies not in outright failure but in achieving success without understanding why you were successful in the first place. This is called Burgelman's trap.
For a truly great company the big thing is never any specific line of business or product or idea or invention. The big thing is your underlying flywheel architecture, properly conceived.
Visit the RSPA Solution Center – a web platform designed to connect VARs and ISVs to providers of innovative solutions
When choosing a new market or new business line you shouldn't mindlessly repeat what you've done before but evolve, expand, and extend.
A flywheel does not need to be entirely unique; two successful organizations can have similar flywheels.
Every component of the flywheel depends on all the other components. You must get the sequence right.
When it comes to the flywheel, you need to fully embrace the genius of the AND and avoid tyranny of the OR
It's imperative that you make the right diagnosis.
Every large organization will eventually have multiple sub flywheels spinning about. When you achieve the greatest momentum, all of your sub flywheels should be held together by an underlying logic. Each sub flywheel should clearly fit within and contribute to the whole.
Apply your creativity and discipline to each and every turn with as much intensity as when you cranked out your first turns on the flywheel – nonstop, relentlessly, ever building momentum.
RSPA Recommended Read Rating: 9.5/10
To better understand and articulate how our organization provides value to our customers, the RSPA sales and marketing teams utilized Collins' "7 Step Guide for Capturing Your Flywheel" in the guidebook to map out our version of the RSPA's Flywheel. In about one month start-to-finish, four of us created  our visual of a system that will improve with each turn: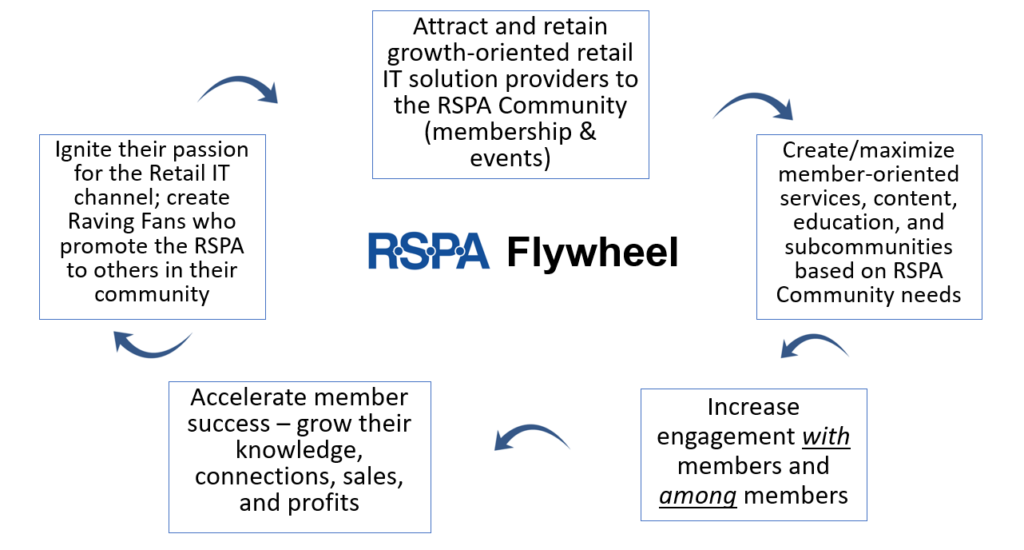 For a VAR or ISV consistently looking to expand their portfolio, constructing an effective flywheel opens the opportunity to repeat what's been accomplished and efficiently evolve, expand, and extend into new markets, geographies, or services.
Successful solution providers should read the book – it's only 37 pages long. Gather your team. Grab a white board (physical or virtual). Lay out your organization's components and construct the first draft of your organization's Flywheel. Test each component. Meet every 30 days or so to review and improve your Flywheel – until you get it right.
Purchase your copy of Turning the Flywheel: A Monograph to Accompany Good to Great today and build a more successful organization tomorrow.
Author's Note: As an RSPA member, you have access to our VAR/ISV Business Advisory Services. The RSPA has a team of channel professionals who work with high-initiative, growth-oriented VARs, ISVs, and MSPs to improve their organization through Strategy Sessions with your leadership team and professional development workshops with your staff. We would be happy to help your organization build a successful flywheel. To discuss the services available, contact the RSPA's Jim Roddy at JRoddy@GoRSPA.org.
Don't forget to visit the RSPA Solution Center – a web platform designed to connect VARs and ISVs to providers of innovative solutions
---

Chris Arnold
is the Marketing Communications Manager for the
Retail Solutions Providers Association (RSPA)
. Active in the association since 2017, Chris plays a key role in member engagement, new member recruitment, event promotion, messaging strategy & execution, and content creation. Chris helps lead the RSPA Marketing Committee and is responsible for the association's email and social media campaigns. He also serves as the Executive Editor for Connect Magazine and Producer for the RSPA Trusted Advisor Podcast. For more information, contact
CArnold@GoRSPA.org
.