By: Jim Roddy, VP of Marketing at the RSPA
To help retail IT VARs and ISVs effectively deal with the COVID-19 pandemic, the RSPA reached out to several members asking them for ideas and business best practices related to this crisis. Our community has responded generously with several executives sharing helpful information. This article provides examples of messages to send to employees and merchants.
Messaging to Employees
Brett Bennett, the President of VAR POSitive Technology and ISV OpSuite, told me that he and co-founder Mike Nicholson have been "very closely in touch" with the company's employees and customers. They emailed this message to employees the morning of March 16:
Hello all,
It's a beautiful start to the week. Hope you are all doing well. Mike and I wanted to touch base again at the beginning of the week to give you some additional information on our plans as things progress related to COVID-19.
If you have any symptoms of COVID-19, which include Fever, Dry Cough, and/or Shortness of Breath, please stay home and seek appropriate medical advice. Attached is a symptom document from the CDC for your reference.
If you have a cold, flu, or other illness, please stay home and work from there if you feel up to it.
Our Health Insurance Company, EMI Health, has provided information on keeping our families and communities safe. I have attached the document for your review. Note that you can use TELEMED for any medical questions or advice. This is just like visiting your doctor; they can even issue prescriptions, but there is no copay for the visit! YAY … save cash!
Above all, please stay calm. As a company, we are in a good place to weather this type of storm. We are unique in that we can be very productive in all kinds of scenarios. On top of that, we have great people who work here … people we can all rely on.
If you have not already done so, please make sure that you have everything in place for you to have the option to work from home. i.e. all the hardware, technology, VPNs, etc. in place. If it becomes necessary to work from home, we want to be prepared.
You are welcome to work from home temporarily, if you feel that you would be best suited to do so. Please make arrangements with the appropriate management to make sure that you can be as productive as possible. Again, this should be a temporary arrangement.
Thank you for your hard work and support! Let us know if you have any questions or concerns. Have a great week!
Messaging to Merchants
Chris Rumpf, the owner of Flyght, a VAR/ISV headquartered in Toldeo, OH, shared with me the email he sent to his merchants the morning of March 16. Here's an edited version:
I spoke with a restaurant/bar owner friend and client last night around 8pm EDT in Ohio who said, "you know, I've always wondered what the last night before prohibition would have been like, and I feel as if now I almost know." His comment struck me because I felt similarly as I sat at my favorite restaurant (there were four people in total dining) for my last dining-out meal in Ohio for a few weeks.
We are in unprecedented times, and the rapid speed in which the landscape is changing is challenging. We're adapting our operations in real-time, and caring for our customers and employees continues to be our top priority.
As a company, we've conquered many challenges over the years that have made us better prepared for a challenge like this. Flyght is here for you, and today, we'd like to offer the following:
* Facilitating online and 3rd party ordering
For customers not currently using an online ordering platform, we are deferring invoices for setup fees for 90 days, which means restaurants can be up and running tomorrow with Flyght Online Ordering without a single dollar of upfront investment. Call us at 419-724-3115 to get started on this today.
* Join the conversations today at 2:00pm and 3:00pm EDT
At 2:00pm EDT today, we're hosting a 45-minute conversation on the state of the industry. We'll be facilitating a discussion on what options businesses have to continue operating, and we'll share each other's best practices for success. [Link redacted}
At 3:00pm EDT today, our friends at Balance Pan-Asian Grille have created an opportunity to hear from Ohio government officials and Ohio Restaurant Association officials in a fluid conversation. Join fellow business owners and representatives from the Ohio Restaurant Association and State of Ohio for a conversation about the impact of COVID-19 on food service businesses. Dial in at [redacted] or [redacted] and enter Access code [redacted].
* Consulting fees for existing customers are now complimentary
Normally, our rates to consult high-level business practices are several hundred dollars per hour. Now, through at least March 27th, this service is free. We have a wealth of resources, and have aggregated best practices from our customer base. Ask us anything, and we'll help with everything, from setting up your delivery and carryout processes, to facilitating employee wellness protocol.
Scheduling time is as easy as one click at [redacted]
* Educate any employees adversely effected by the current economic state
Most states are making it easy to receive immediate unemployment benefits (Ohio, Washington, California, etc.), and many others are expected to follow this week (Michigan, Indiana, etc.)
Ohio: [redacted]
California: [redacted]
Washington: [redacted]
Please engage us. We're here to assist you as we all navigate this extraordinary time.
Chris
---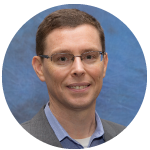 Jim Roddy
is the Vice President of Sales and Marketing for the
Retail Solutions Providers Association (RSPA)
. He has been active in the POS channel since 1998, including 11 years as the President of Business Solutions Magazine, six years as an RSPA board member, one term as RSPA Chairman of the Board, and several years as a business coach for VARs, ISVs, and MSPs. Jim is regularly requested to speak at industry conferences and he is author of Hire Like You Just Beat Cancer. For more information, contact
JRoddy@GoRSPA.org
.