UK, Newhaven – APG Cash Drawer, a rapidly growing global manufacturer of cash drawer and cash management solutions, will be exhibiting at Europe's leading retail technology show, EuroShop, 5th-9th March, 2017.In Hall 6 at Messe Düsseldorf, APG will be showcasing the latest cash drawer models developed for the General Application range along with the pioneering SMARTtill™ Cash Management Technology, suite of mPOS, security and purpose built solutions.

""As the retail PoS market matures, the demands being placed on the PoS peripherals also change," stated Stephen Bergeron, V.P. of Global Marketing. "Having recognized this shift in the market, we are pleased to announce the expansion of our global product portfolio to include a new suite of General Application products which will be showcased for the 1st time at EuroShop 2017." Whether customers are searching for a General Application cash drawer, Cash Bases Bespoke product or the SMARTtill™ Cash Management Solution, APG now offers the widest range of cash drawers which will all be on display at the EuroShop show.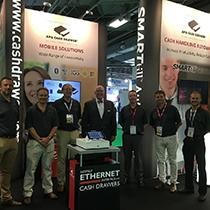 "Andrew Carr, who joined APG at the end of 2016 to run the European division stated, "we are making a strong investment in manufacturing in Europe. The new General Application product line is the 1st of many advancements you'll see from APG," continued Mr. Carr. "Becoming more agile in our manufacturing and order fulfillment and implementing a new price strategy for our distribution partners will really set the stage for our customers in 2017. We are determined to offer the best solutions and to be the industry enabler with whom our partners and customers can reach their fullest potential."
"APG is committed to developing and investing in innovative technology that will serve markets worldwide," stated Mr. Bergeron. "We have cash management solutions that offer benefits to retailers not only at the point of sale, but across an entire organization: loss prevention, operations, treasury and back office all realise significant cost savings with advanced cash flow visibility and the business intelligence to reallocate labour, increase productivity and improve the shopping experience overall."
Schedule a meeting to find out more about APG's product portfolio at EuroShop 2017, or visit us at stand #C31 in Hall 6 during the show.
---
About APG Cash Drawer, LLC
APG Cash Drawer, with over 30 years of experience, manufactures a wide range of highly durable and reliable cash drawers that are delivered quickly to the marketplace. APG has built a reputation as the supplier of choice for cash management solutions for retail, grocery, hospitality, and quick serve for thousands of customers throughout the world. Whether it's our general application cash drawer, custom designed solutions, or the SMARTtill Intelligent Cash Drawer, our products and brand are differentiated by our ability to deliver innovative technologies that globally enhance efficiency and security at the point of sale. To learn more about our products, visit https://www.cashdrawer.com/europe or call +44 1273 616384. Follow us on Twitter at @apgcashdrawer and on Facebook.