MINNEAPOLIS, MN – APG Cash Drawer, a rapid growing global manufacturer of cash management solutions, will be exhibiting at the 2017 NRF Convention. The trade show will take place at the Jacob Javits Convention Center in New York, NY from January 15th-17th. At the show, APG will be showcasing the latest cash management technology, suite of mPOS and security offerings, and purpose-built European products at booth #4363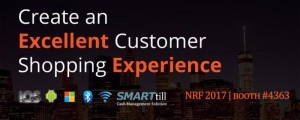 "We are pleased to be exhibiting again at one of the largest retail conventions world wide," stated Stephen Bergeron, VP of Global Marketing. "Today's merchant is challenged with building loyalty, increasing sales with a personalized checkout experience with higher wages and a limited labor pool. Retailers who attend NRF discover the most cutting edge solutions available to them that will help solve these problems. The next generation of cash management solutions will improve a store's operational efficiency, reducing time spent on manual cash counting and allowing managers to reallocate the labor necessary to focus on giving better customer service and generating more sales at the point of decision. We are excited to showcase the solutions that address these requirements at NRF 2017," stated Bergeron.
On display at NRF will be APG's SMARTtill® Cash Management Solution, integrated with unique weighment technology under each coin and bill compartment. The SMARTtill® Cash Management Solution offers benefits to retailers not only at the point of sale, but across an entire organization: loss prevention, operations, treasury, and back office all realize a significant cost savings with advanced cash flow visibility and the business intelligence to reallocate labour, increase productivity and improve the shopping experience overall.
Also on display at NRF will be APG's suite of mPOS solutions to support secure, mobile point of sale facilitated environments:
550 iPad Interface for cash drawers: Connected by wire directly to an iPad's lighting jack, a retailer's app can quickly connect to and use this locally-connected cash drawer
486 NetPRO® Ethernet Interface for cash drawers: Enables the authentication and encryption over LAN at the point of sale
854 USB interface for cash drawers: Supports the power management model of Windows 10 to conserve tablet battery life
BluePRO® Bluetooth Device for cash drawers: Connects a low-cost, printer-kick cash drawer and pairs it with a mobile device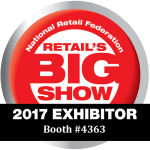 "APG is committed to developing and investing in innovative technology that will serve markets worldwide," stated John Meilahn, VP of Global Sales. "Whether it's your general application cash drawer, custom designed product, mPOS interface (Bluetooth or wireless), cash recycling technology or the SMARTtill® Intelligent Cash Drawer, APG provides global solutions that will effectively serve retail, restaurants, quick serve, supermarkets, c-stores environments and more," stated Meilahn.
Schedule a meeting to find out more about APG's cash management solutions at NRF 2017, or visit us at booth #4363 during the show.
---
About APG Cash Drawer, LLC: APG Cash Drawer, with over 30 years of experience, manufactures a wide range of highly durable and reliable cash drawers that are delivered quickly to the marketplace. APG has built a reputation as the supplier of choice for cash management solutions for retail, grocery, hospitality, and quick serve for thousands of customers throughout the world. Whether it's our general application cash drawer, custom designed solutions, or the SMARTtill® Intelligent Cash Drawer, our products and brand are differentiated by our ability to deliver innovative technologies that globally enhance efficiency and security at the point of sale. To learn more about our products, visit https://www.cashdrawer.com or call 763-571-5000. Follow us on Twitter at @apgcashdrawer and on Facebook.