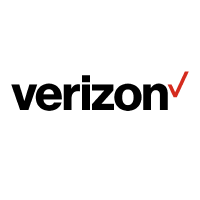 Verizon
Verizon is one of the largest communication technology companies in the world. With over 150 locations, Verizon is a global leader delivering innovative communications and technology solutions that improve the way our customers live, work, learn and play.
Founded in 2000, the company is celebrating its 20th year as one of the world's leading providers of technology, communications, information and entertainment products and services. Verizon operates America's most reliable wireless network and the nation's premier all-fiber network, and delivers integrated solutions to businesses worldwide. The company offers voice, data and video services and solutions on its award-winning networks and platforms, delivering on customers' demand for mobility, reliable network connectivity, security and control. Verizon was the first company in the world to launch a commercial 5G mobile network with a commercially-available 5G-enabled smartphone. The company's operating structure focuses on three customer-facing areas: Consumer, Business and Media.
Verizon Mobility Co-Sell Program
Take the opportunity to collaborate with us to meet the unique needs of our mutual customer with complete retail solutions.
Other Products and Services
Contact Info
https://enterprise.verizon.com/
Joy L. Brown
Channel Development Manager | Channel Sales | Verizon Business Group
joy.brown1@verizonwireless.com
864-987-2041