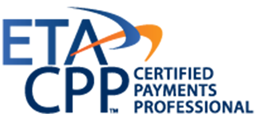 ETA Certified Payments Professional
Focused on Payments? Show customers that you are adept at navigating today's complex electronic payments environment with this certification. ETA's CPP Program will equip you with the skill and knowledge necessary to perform up to par.
RSPA Member Pricing: $350 for the exam; $149 per ETAU online course.
Ready to get started? Contact our education team today to learn more and access RSPA Member Pricing. Education@GoRSPA.org